Giovanni Infantino, President of the International Federation of Association Football (FIFA), said his administration is committed to eradicating corruption and developing the Caribbean Football Union (CFU).
Speaking at a press conference held at the Le Meridien Pegasus Hotel hours after his arrival on local shores, he declared: "Each association has to outline in detail what they are going to do with the money they are going to receive and we are going to monitor this and I said it because I am fully aware of the risks that this entails and unfortunately human beings are as they are, you are never immune of risks.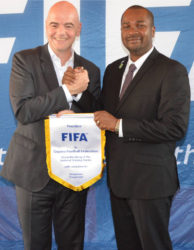 "I said it very clearly, we are investing much more in football which is what we have to do as FIFA and what each association has to do as well but don't cheat because there will be zero tolerance. If we catch anybody who says he is building a football pitch and is building a swimming pool of his villa, then he is out and he has to repay every single cent. We trust, we invest, we monitor, we check, we control much more efficiently than the past and if somebody still thinks he is cleverer then he will have to bear the consequences," Infantino disclosed.
Following consultations with His Excellency President David Granger and CARICOM Secretary General, Ambassador Irwin LaRocque, Infantino said: "One of the purpose of this meeting is to establish relationships with CARICOM because it is crucial that we work all together.
"We all share the same view that if we come together, if we speak together, if we put our ideas and projects on the table, we can find synergies and everyone can benefit so I am sure that we can develop education programs, development programs, competitions, travel opportunities for the whole region of which the whole region will benefit generally," he added.
According to Infantino who also visited the GFF's Academy Training Centres (ATC), talent is evident in the region.
"The natural talent in the region is there, what is needed is put structure and professionalism and we are giving now the means and the possibilities to this region to do it very concretely. FIFA was investing to its associations in the CONCACAF region, US$19, 000,000 every year till 2015. As of my election last year, we increased this amount to US$60,500,000 a year, we more than tripled the investment but we don't call it distribution, we call it investments in concrete projects.
"This is the difference from now compared to the past is that we, with our team are much more present, we are there and are working together, not police but to cooperate and we sign a contract we call it the contract of agreed objective, with each association and this is also new in FIFA," he posited.
Meanwhile, Wayne Forde, President of the Guyana Football Federation (GFF) said "What is important to mark in the President's statement is the consistency with the developmental thrust of FIFA and what we have been trying to do in Guyana. Clearly we have demonstrated as an executive committee over the past 17 months that our focus is on football and we now have a robust youth development programme that will only get better in time."
He added: "The word of caution that I share with the wider society and from my colleagues in the fraternity and of course with FIFA and CONCACAF is that many of the results that we will witness in the coming years will not see them overnight. This is a long, arduous and painstaking process in developing football and developing excellent footballers. One of the things that we have on our side is that we have a parent body that sees the value of the work we are doing and a president that is taking bold initiatives in setting out the Forward Programme that has more than tripled the funding of Guyana but many of my colleagues in the region and throughout the world will enjoy."
He added:" I think the level of accountability and transparency that we are building within our administrative structure not only at the federation level but the demands and the conditions that we will be setting out for the associations as well is consistent with what is required to reform the image of football.
"FIFA alone cannot do this, every MA [Member Association] has to play their part and Guyana has stepped forward and played its part. We are in a mood of reform and will continue in that process. I use this opportunity to reassure President Infantino and the football family that the football federation Executive Committee has the resolve to see this job through. We are committed and are working diligently every day to create a better future for all of our footballers. This is an exciting time for Guyana football. I think there is a lot of optimism in the air about the prospect of Guyana's football and I think that some of the early results we have produced is testimony of the work we are doing," he added.
Around the Web