Journeyman, Winston Pompey (3-12-3) may be an underdog opponent for Edmond 'Wonder Boy' DeClou (16-3-1) but he is training and thinking like a champion.
Despite taking the fight on short notice, Austin and his coach, the legendary, George 'Canchie' Oprecht are both confident that he can score a big upset over the highly rated former CABOFE middleweight champion.
Oprecht stressed yesterday that "Winston has good box skills, exceptional boxing skills and ability.
"It is a fight that we can handle, it will be a fight and anything can happen in a fight, he has been training and we are going out there to put up a good show."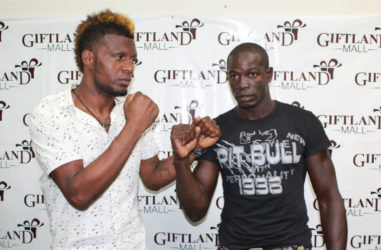 Pompey and DeClou are fighting at the Giftland Mall on the 'Locked and Loaded card billed for April 23.
The event in two weeks will be the third time the pair will be matching gloves. In their first encounter on January, 28, 2011, Pompey and DeClou fought to a draw while the latter won via unanimous decision four months later.
Oprecht is adamant that his charge is "Stronger and more experienced now and will beat DeClou very easy."
Said Pompey "When I fight, I fight intelligently. I won't try to knock him out. He's a strong guy but I don't care if I win by knockout or decision. I just want to win."
The April 23 bout promises some fireworks.  Meanwhile, the knockout night of boxing will be headlined by the flashy Dexter 'De Kid' Marques.
The showman flyweight who has not fought since last February will look to shake off some ring rust since his promotional team has already lined up a Commonwealth title fight with their sights set on a world title crack later in the year.
Marques (15-2-0) will match gloves with Venezuelan, Luis Alberto Requena in a 10-round affair.
Elsewhere on the bill, Imran 'Magic' Khan will take on Keeve Allicock in a four-round lightweight bout. There will also be three amateur and five Mixed Martial Arts (MMA) bouts. Admission for ringside is $2000 and $1000 for regular seating. Bell time is 19:00hrs.
Stabroek Sport will keep readers updated as events for 'Locked and Loaded' unfold.
Around the Web