DUBAI, United Arab Emirates,  CMC – West Indies' hopes of automatic qualification for the 2019 World Cup in England took a further blow when they dropped a point in the latest International Cricket Council rankings released yesterday.
The Caribbean side, currently lying outside of the automatic places at ninth in the rankings, lost the final One-Day International to Pakistan on Tuesday, to suffer a 2-1 defeat in the three-match series.
As a result, the Windies slipped to 83 points while Pakistan gained one point to move to 91 points while remaining in eighth place in the rankings.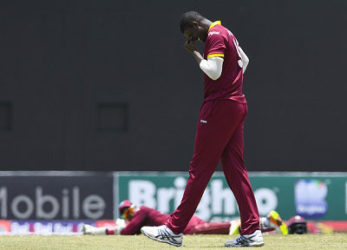 Hosts England and the other seven top sides as of September 30 will qualify automatically for the quadrennial showpiece, with the remaining teams heading to a qualifying tournament to determine that last two spots.
West Indies looked on course to enhancing their ranking when they staged a record run chase to beat Pakistan by four wickets in the opening ODI last Friday at the Guyana National Stadium.
However, they plunged to a 74-run loss in the second game two days later before also suffering a six-wicket defeat on Tuesday.
Had they swept the series, they would have jumped to 87 points and overtaken the Pakistanis, albeit by a fraction of a point.
West Indies have lost six straight ODI series but should find reprieve when they take on minnows Afghanistan – ranked 10th – in a three-match series in St Lucia in May.
The two-time World Cup champions also face a crucial five-match series against England in September, just prior to the ICC deadline for automatic qualification.
From May, the ICC will overhaul the rankings to reflect all ODIs played since May 1, 2004 while also placing heavier weight on games played from May 1, this year.
South Africa lead the current rankings on 119 points, just one ahead of Australia, with New Zealand five back in third on 113 points.
ICC ODI rankings:
1 South Africa 119
2 Australia 118
3 New Zealand 113
4 India 112
5 England 108
6 Sri Lanka 98
7 Bangladesh 92
8 Pakistan 90 (+1)
9 West Indies 83 (-1)
10 Afghanistan 52
11 Zimbabwe    48
12 Ireland 42
Around the Web