Undisputed Bartica Regatta Speedboat racing champion Dave Scott will seek a sixth Open category champion racer title while Jose Jardine will be going after his fourth when the 2017 Bartica Regatta opens today.
Scott, with five consecutive title defences is looking to make it six in a row.
In an interview he said that when his `Jaguar' (dubbed) boat enters the water this morning, all he will be seeking to do is to win every race adding that he was unfazed by those seeking to break his hold on the championship trophy this year.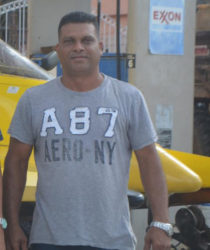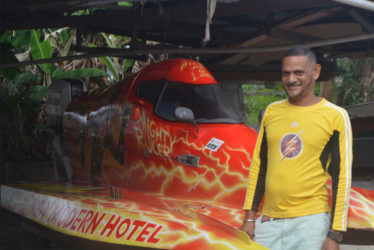 "There is only one thing on my mind and that is to defend my title successfully regardless of my opposition as I have a mission to accomplish and believe me, I will endeavor to accomplish it," he declared.
Jardine, who will be making a fourth defence of the 200 horsepower category, said that he wants to continue ruling that roost.
Scott and Jardine, who have established themselves as Guyana's top speedboat racing champions, said that they have been getting their skills sharpened with aggressive training adding that that they are excited by the passion and determination of their competitors, which they declared have served to fuel their desire to be successful.
Some 22 races will be contested over the two days, 12 on the first and 10 on the second.
Scott will compete in six Open races and four 200 horsepower races.
"I will be competing in the smaller category which is the 200 horsepower races with a smaller boat," he revealed adding that he was excited by the champion driver's prize this year of one million dollars jointly sponsored by Sir Service Station and BK International. The other sponsors of the races are Banks DIH, DDL, Ricky Ramnarine, Aruwai Resort, Digicel and Kadir Mohamed Enterprise.
Jardine's competition will come from Neil Gonsalves, Clarence Bell and Selwyn Joseph while in the smaller category he will be hard-pressed to retain his title as he will be competing among the likes of Dave Young, Raymond Russel and Clint Gonsalves.
Jardine stressed that his dominance of the smaller category will continue this year adding that spectators are assured of a major showdown of skill, speed and talent.
"I just don't come out and race, I have a strategy which I work on every year as this helps me to stay ahead of the pack and with great execution I am able to come out victorious," he declared.
Scott said that he is not worried about losing noting that someday he will be beaten.
"I am not just going to sit back and say well you know that I have won five consecutive times so it's time someone else gets that champion racer trophy, no I wouldn't but rather I will continue working harder to increase my lien on the trophy and ultimately if someone gets better then I know that I will be beaten," he said.
The first race is expected to get going at 10 am this morning.
Around the Web