Team Coco's standout, Hamza Eastman came out on top of a four-man sprint to win the feature 35-lap event of the 13th annual Universal Auto Sales and Spares multi-race programme to secure his fifth win of the season yesterday.
Eastman bettered Team Evolution's Paul DeNobrega by a wheel during the event which was contested in perfect conditions for racing at the National Park. The 23-year old wheelsman who also pocketed half of the eight sprint prizes, completed the trek in a brisk one hour, 17 minutes and 16 seconds.
Eastman's club mate, Jamal John who has been on a tear since the 2017 season got rolling, closely completed the podium about a bike length behind.
Linden Bauxite Flyer's Shaquel Agard finished fourth while Alonzo Ambrose and Enzo Matthews filled out the top six rewarding positions.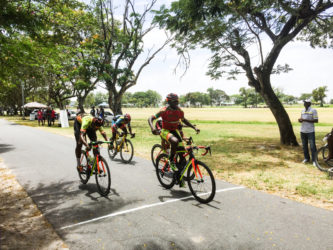 John, who also snared four sprint tokens, broke up the 17-man peloton when he attacked in lap three. The rest of the top four followed and pulled away on the circuit. With the high pacing quartet motoring and the chasers playing cat and mouse, the leaders were able to lap the field just after 10 laps. With no challengers in their rear view, there they stayed well ahead of the chase pack all the way to the finish.
The leaders sized each other carefully in the final miles. John ignited the sprint 250 meters from the line. He made his move too soon, and Eastman caught him with ease, then resisted DeNobrega's response to claim his fifth win in 2017.
Quick Results Top 6
Hamza Eastman
Paul DeNobrega
Jamal John
Shaquel Agard
Alonzo Ambrose
Enzo Matthews
Other winners yesterday included: Ajani Cutting (BMX Boys 6-9 years), David Hicks (Boys and Girls 12-14), Nigel Duguid (Juveniles), Ryan Canterbury (Mountain Bike), Ian Jackson (Veterans U-50) and Linden Blackman (Veteran O-50).
Eastman who is one of the main sparkplugs igniting the Team Coco's machine this season will look to add another first place trophy to his collection when the cycling calendar continues today with the staging of a 70-mile road race.
The event gets off to a rolling start from 08:00hrs at Chin Chan Cycle General Store on Robb Street, proceed to the Coca Cola Sign at Loo Creek on the Linden Soesdyke Highway then return to Grove on the East Bank Demerara for the finish. The winner will receive $50,000.
There will be a historic 20 sprint prizes worth $5000 each up for grabs during the trek. Today's race promises to be a scorcher.
Around the Web