Hosts Guyana fared well on the opening day of the Caribbean Cadet and junior table tennis championship which began at the Cliff Anderson Sports Hall, last evening.
Guyana's Under-15 boys team's match against Jamaica was the highlight of the evening as rising sensation Kaysan Ninvalle had the small going with his dynamic celebrations at the end of every point won as his team dominated the Jamaicans to win their first team matchup 3 – 0 to kick start the under 15's title quest on a winning note.
The Under 15 boys returned to serve their way past a mixed team comprised of players from Guyana and St. Lucia 3 – 0 margin to underline their dominance in that category.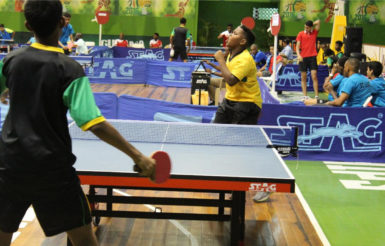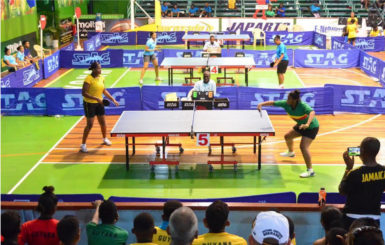 However they were sure to take notice as everyone else did, of the well-oiled Dominican Republic side who slammed their way past team Suriname and Barbados by 3 – 0 margins.
Guyana in the boy's Under 18 category, crept home 3 – 2 against a resurgent Trinidad and Tobago team.
Top players Kyle Edghill, the national boys singles champion and Elishaba Johnson will need to up their game after looking a tad rusty when they come up against the likes of the Dominican Republic and Barbados who routed St. Lucia and Aruba by 3 – 0 margins on the back of strong performances from highly ranked Dominican Republic's player, Mariano Loowood and Barbadian Tyrese Knight.
The Guyanese Under 18 girls, however, will have to reset their strategies after winning against a mixed Trinidad and Guyana side 3 – 1 but lost to the Jamaica Under – 18 girls team 0-3.
Around the Web