Team Guyana served their way to two silver medals on Sunday evening when action in the Caribbean Cadet and junior table tennis championship continued at the Cliff Anderson Sports Hall with a number of competitive Caribbean juniors displaying their skills and emotions.
The host nation also had success in the girls U15 teams with Clarkston, Martin, and Jackman finishing behind the impressive Dominican Republic team to claim another silver medal.
The locals went down to Barbados in the boys' U15 final when Ramon Maxwell and Reshon Goddard of Barbados defeated Jamal Nicholas and Terrence Rausch 3 – 1 in a highly competitive final.

The Bajans won the first set but Guyana struck back to claim the second before the Bajan pair held on to win the next two sets and walk away with the gold in the most intense battle of the evening.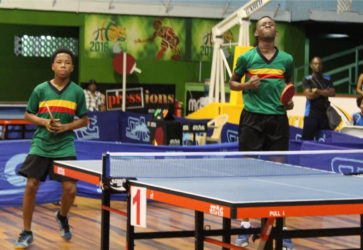 The girls' U18 final, however, was somewhat of a one-sided affair after the Dominican Republic girls defeated Guyanese Jamaali Homer and Priscilla Greaves in straight sets to hand Guyana another silver at the championship.
The Hispanic team was once again the focus of the championships when both of their U15 girls' doubles pairs reached the girls doubles final, with Rosa Torres and Etefany defeating Idelas Baes and Dahvana Rios 3-0 in the final.
Guyana's Thuraia Thomas/Salenas Jackman and Abigale Martian/Navaeh Clarkston were joint third.
On Saturday evening in the U18 teams, the Dominican Republic asserted their dominance by winning both the boys' and girls' categories with the Guyana teams placing fourth in each category.
The script was a bit more pleasing for the supportive Guyanese crowd as the trio of Nicholas, Kaysan Ninvalle and Rausch led Guyana to third place in the boys U15 team event after losing in the semi-finals 0-3 to Aruba.
Action continues today at the same venue where top Guyanese racket-wielders Kyle Edghill, Elishaba Johnson, Miguel Wong, Terrence Rausch, Jamal Nicholas, Priscilla Greaves, Jamaali Homer and eleven-year-old sensation Kaysan Ninvalle will all attempt to serve Guyana its first gold of the championship in the individual singles.
Around the Web