The wait has whittled to just three days for first time competing bodybuilders eager to don their posing trunks and showcase their chiseled physiques.
It has been confirmed that Saturday is set in stone for the Guyana Bodybuilding and Fitness Federation Inc. (GBBFFI) annual Novices Championship.
Scheduled for a 19:00hrs start at the Theatre Guild, musclemen and women outfitted with rippling abdominals, well-defined quadriceps, sculpted arms, stilettos and bikinis will be on display as they battle for supremacy.
For just the third time on the Novices stage, the Men's Physique segment will be contested along with the customary bodybuilding, Ms. Bikini and Ms. Body Fitness categories.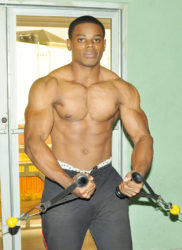 This year's event promises to be of a higher standard since many of the athletes have been through months of grueling contest prep.
When interviewed, the gladiators promised to bring their 'A' game to the stage.
A night of thrilling competition is envisioned.
The athletes will be placed in the customary categories, namely: under 21-years, flyweight, bantamweight, lightweight, welterweight, light middleweight and heavyweight along with the two categories for the women.
For the Ms. Bikini Contest, judges will analyze body shape, tone, symmetry, complexion, poise, presentation and overall condition. Also, they will be looking for a fit, toned feminine body that display proper conditioning. Contestants will be judged individually and in group comparisons.
The show will also feature former Novices champion and 2015 Flex Night overall champ, Godfrey Stoby. He will be the special guest poser for the night.
According to president of the federation, Coel Marks "in excess of 20 athletes inclusive of seven females will be on the stage displaying their physiques."
Admission to the venue will cost $1500.
Notable sponsors include Fitness Express, Cafe' Sol, Windjammer Hotel, Hand-in-Hand Insurance Company and the Giftland Mall.
Around the Web