Former national middle distance champion Waveney Benn last week donated a quantity of sports equipment to the Cathedral of the Immaculate Conception.
Benn, who migrated some 25 years ago and now resides in the United Kingdom, last Wednesday presented a quantity of basketballs and footballs to Monsignor Terrence Montrose at the Church's Head Office on Brickdam.
The donation was the fulfillment of a promise made by Benn during a visit to her homeland last year.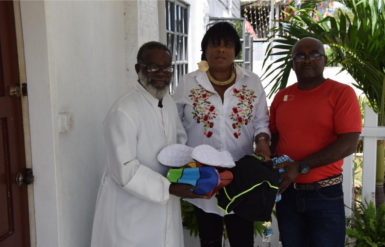 Montrose duly thanked Benn for keeping her promise to the Church and said that the equipment will come in handy for use by the youths of the congregation.
Benn, a former CARIFTA Games 800m bronze medalist, also donated a quantity of athletic apparel and jogging shoes to the Junior Carifta Games athletes who recently won seven medals at this year's CARIFTA Games including four gold medals.
Benn, who has returned home almost every year and has given back to athletes in need promised to continue to support athletes and organisations in need of her support.
Around the Web