KINGSTON, Jamaica,  CMC – Head coach Stuart Law hopes West Indies can build on their strong finish to their last Test series against Pakistan, as they prepare to take on the Asian side in a three-Test rubber starting here tomorrow.
The Caribbean side were brushed aisde in the opening two Tests on the tour of the United Arab Emirates late last year but bounced back to win the final game in Sharjah.
And Law, overseeing his first ever Test series with the Windies following his appointment in February, hopes that victory can prove an inspiration to his players.
"That [win] resonates pretty well with the group at the moment. They are very proud of the fact that they went through a long tour and finally had some joy at the end," the Australian explained.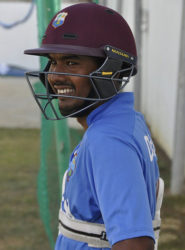 "We'd love to start this series the way we finished that one. We'll go away over the next couple of days and we'll do a lot of talking as much as playing cricket as well. We'll do a lot of talking, soul searching and work out the right strategies.
"Hopefully the conditions that we'd love to see will come to fruition and we can go out and play our cricket."
West Indies will be without some of the experienced players who toured the UAE last year, with Marlon Samuels and Darren Bravo both dropped.
However, selectors have called up the Guyana Jaguars duo of Vishal Singh and Shimron Hetmyer to the 13-man squad, with left-hander Kieron Powell returning to the Test arena following a three-year absence.
Law said he had been impressed by all three players, noting they all brought something special to the squad.
"Kieran Powell has got pedrigree, he's made Test hundreds before and Shimron Hetmyer, the Under-19 captain, he's shown some promise," Law pointed out.
"He hasn't played a lot of cricket to be honest but what he has done is he's really impressed with the way he goes ahout it. I really like the way he's aggressive, very busy at the crease. He can play the shots, can play spin, can play pace."
He continued: "Vishal Singh made 135 not out the other day, showed good temperament, good quality, solid defence against spin as well, so there are a few new faces.
"We had to replace a few players for one reason or another, and these guys have come in. They've got some form on the boards and it will be really interesting to see how they go."
And with the opening Test marking the 50th to be played at the historic Sabina Park venue, Law said he was hoping for a Windies win to highlight the occasion.
"We're looking forward to it … it would be really nice to come out and really put on a show and win the game," he stressed.
Comments

By Romario Samaroo One week prior to the start of the West Indies Super50 cup, the Guyana Jaguars yesterday released their 14-man squad which features five new faces.

The decision by the Guyana Olympic Association (GOA) to give a monthly stipend to a number of athletes and coaches must be commended.

Chairman of selectors for the national cricket team, Rayon Griffith, has emphasized the importance of fitness and the inclusion of players who are regarded as 50 overs 'specialists' as key elements to the Guyana Jaguars limited overs run.

By Noelle Smith Swimming officials from Guyana and Suriname will have to wait another month for Switzerland based international body, FINA, to assign a representative to facilitate a training programme here in Guyana.
Guyana Jaguars opener Chandrapaul Hemraj, who topped the Jaguar's batting run chart during their unbeaten run this season without registering a century says he is not bothered about it and many will follow once he gets the first.