CHICAGO, (Reuters) – Tennis star Serena Williams could take a pass on Wimbledon if physical changes from her pregnancy such as balance and blood flow affect her preparation and performance, researchers who study pregnancy in high-performing athletes said.
It would be perfectly safe for Williams to continue with rigorous training throughout pregnancy, but how quickly she would return to tournament tennis, if she so chooses, was uncertain, the researchers said.
Williams on Wednesday confirmed her pregnancy through spokeswoman Kelly Bush Novak after the tennis player posted a picture of herself in a yellow bathing suit on Snapchat social media with the caption "20 weeks."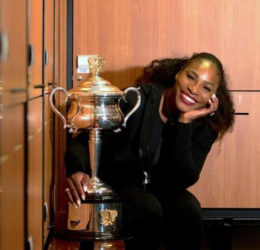 James Pivarnik, a kinesiology professor at Michigan State University, said Williams' muscular build could forestall some of the changes that could impair performance. Williams, who is 5 feet 9 inches (1.75 metres) and weighed 155 pounds (70 kg) according to her tennis association profile, won a 23rd Grand Slam tournament title at the Australian Open in January.
"It's not like some little 95 pound distance runner. From a size change difference, it might take longer for that to be an issue with her, depending on how she carries," said Pivarnik, who has studied the impact of pregnancy on exercise for the past three decades.
In pregnancy, a woman's center of gravity shifts forward to accommodate the growing fetus, which could affect Williams' stance. Pivarnik said that Williams' size may be an advantage.
Williams has not played since January and two major events are coming up: the French Open in May and Wimbledon in July.
Pivarnik said, he would be "shocked" if Williams decided to compete at Wimbledon.
"She'd be 30 weeks. I can't see her being able to perform at a level she'd need to win," he said.
Most top athletes are able to perform very well through about the first half of pregnancy, said Dr. Bruce Young, a professor of obstetrics and gynecology at New York University Langone Medical Center.
Starting at about six months of pregnancy, a woman's balance shifts. "That would be fine if you were a swimmer. If you are a tennis player, it's a problem," Young said.
Other changes could also have an impact, he said. For example, beginning at about 5 months, a woman's blood volume increases by 50 to 60 percent over the non-pregnant state, forcing the heart to work harder.
Red blood cell counts increase, but not in proportion to the increase in blood volume, reducing the oxygen-carrying capacity in the blood, he said.
A woman's lung volume also decreases as the uterus grows and presses on the diaphragm.
"If you are competing at a very high level, that becomes a factor," Young said.
Extreme exercise and training during pregnancy remains safe, however, and can contribute to a swift return to pre-pregnancy performance levels provided the delivery goes smoothly, a survey of scientific literature by experts on behalf of the International Olympic Committee found.
Comments

BASSETERRE, St Kitts, CMC – Batsman Emmanuel Stewart returned from West Indies Under-19 duty to immediately stamp his authority, as he steered Windward Islands to a convincing seven-wicket victory over Jamaica in the opening round of the Regional Under-19 one-day championship here yesterday.

(ESPNCRICINFO) For the first 37 overs of the game, St Lucia Stars were ahead and cruising.

The Guyana Amazon Warriors yesterday visited the St. John's Bosco Boys Orphanage at Ben Profitt Drive, Plaisance, East Coast Demerara.

LONDON, CMC – Head coach Stuart Law has praised the character of Test captain Jason Holder and says he could be an effective leader over the next decade in West Indies cricket.

LONDON,  CMC – Team manager, Joel Garner, has warned pundits to write off West Indies "at their own peril" as the Caribbean side gear up for the opening Test of the three-match series against England starting tomorrow.