The cream of the nation's wheelsmen along with casual riders will have a chance to compete for lucrative cash prizes on Sunday when the second annual Boyce and Jefford Relay Festival and Family Fun Day gets underway at 10:00hr at the Police Sports Club Ground, Eve Leary .
Two cycle races will be contested for the first time this year: 'the Devil Takes the Hindmost' and a Mountain Bike event. Each race will fetch lucrative cash prizes, compliments of Jude Bike Shop on Robb Street, Bourda.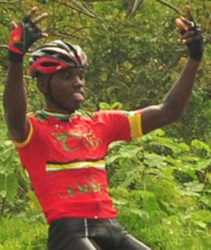 According to the organizers, the races will have the seasoned campaigners, in Alonzo Ambrose, Shaquel Agard, Paul DeNobrega, Hamza Eastman, Orville Hinds, Michael Anthony, Jamaal John, Christopher Griffith, Mark Harris, Raphael Leung, Andrew Hicks and Britton John.
Proprietor of the Shop, former national cyclist, Jude Bentley told the media recently that he is happy to partner with the organisers to host a tangible race for cyclists. Bentley extended an invitation to all cyclists to compete in the race.
"If you have a bicycle and you want to ride, there is nothing stopping you from entering; cyclists don't let anyone stop you. These events are for you to come and ride and I am happy that there is such a big occasion for cyclist to compete," Bentley said.
The races are opened to others who wish to compete. The Devil Takes the Hindmost carries a total cash prize of $50,000 with $25,000 for the winner; $15,000 for second and $10,000 third place. The number of laps of this race will be decided on the day based on the amount of entrants to the event.

Meanwhile, the Mountain Bike event will carry a total purse of $90,000 with $25,000 for the winner; $20,000 for second place; $15,000 third place; $12,000 fourth place; $10,000 fifth place and $8,000 for sixth place.
Around the Web