Holder, Law critical of Oval strip despite victory
BRIDGETOWN, Barbados, CMC – Both captain Jason Holder and head coach Stuart Law has taken aim at the sub-standard quality of the Kensington Oval pitch for the just concluded second Test against Pakistan.
Following the West Indies' stunning 106-run victory on Thursday's final day here, Holder and Law criticized the surface for the swiftness with which it deteriorated, the invariable bounce and the little assistance it offered to the faster bowlers.
In fact, Holder described some features of the pitch as "unacceptable" and urged more attention to be paid the standard of pitch preparation across the region.
"I don't think it's the best pitch for cricket if I'm being honest. I just think it deteriorated a little too fast for Test match cricket," the all-rounder told media following the match.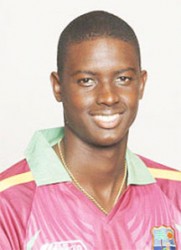 "I felt as though it should have been able to hold together for a lot longer and the invariable bounce is not really acceptable here at this level. I think things worked out nicely in our favour but it could have been the other way around, had we probably lost the toss and been inserted."
He continued: "But that's cricket and I just hope we can continue to improve our surfaces not only here in Barbados but in the Caribbean. We just need to keep putting surfaces out there to improve cricket in the domestic competitions and then obviously improving on our Test match cricket."
The pitch was brown, dry and devoid of grass and after opting for first knock, the Windies managed to gather 312 all out in their first innings.
Pakistan grafted hard to get up to 393 in reply before West Indies battled their way to 268 in their second innings – setting the visitors 188 for victory on the last day. On a wearing last day pitch, Pakistan folded for a record venue-low 81.
All told, the pitch produced two centuries – Roston Chase's 131 and Azhar Ali's 105 – and also served up a nine-wicket match haul for West Indies' Shannon Gabriel but Law argued that the nature of the pitch more suited Pakistan's spinners than the hosts' faster bowlers.
"I wasn't expecting what we turned up to see. All I ask for is a very good cricket surface which means there is something in it for everybody – fast bowlers, spinners, batsmen – and if we can't get a good coverage of grass in a tropical climate there's something wrong," he too lamented to reporters.
"It probably wasn't the pitch we would've liked. I know Pakistan were licking the lips when they saw it because it was a bit like a Pakistani pitch. After day one, on day two when we were bowling and bouncers were landing five metres short of the keeper which to me indicates it's not quite where we want it to be."
Law said with the Windies attack heavily based on seam bowling, it was important that pitches across the Caribbean provided some assistance to the quicks.
"We've got boys who bowl 90 miles per hour and to see the ball do that (not reaching the wicket-keeper) is heart-breaking, particularly on day two," he continued.
"You expect it on day four and five – no problem. But the way we played in those conditions which suited the opposition more so, I'm very proud of the effort the boys put in."