President of the Guyana Amateur Basketball Federation (GABF) Nigel Hinds has called for direct funding from the world governing body for basketball (FIBA) to the national federations affiliated to the body.
Hinds made the call while participating in a National Development Workshop at FIBA's first ever Mid-Term Congress which ended Friday last in Hong Kong.
The two-day meeting held May 4-5 brought together delegates from 146 national federations with the GABF represented by Hinds and its General Secretary Patrick Haynes.
Hinds pointed out that the provision of funding to affiliates was a common theme by the other major international sports federations adding that it was critical for the progression of emerging countries who do not have the basic infrastructure in place to foster development at the various levels.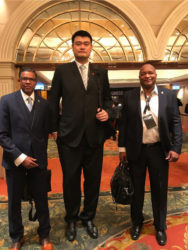 According to a press release, Hinds, in response to questions from the Chair of the National Federations Development Workshop, made a clear call for direct funding to national federations by FIBA…"especially for lesser developed countries where basic basketball facilities are not up to international standards and where core funding is absolutely needed from FIBA for the development of national championships, coaching and refereeing."
He also disclosed that the Guyana Government and the local Private Sector had donated US$200,000 and US$50,000 towards the successful staging of the Caribbean Basketball Federation U16 Male and Female 2016 Championships in Guyana.
He argued that FIBA should consider the concept of financial subvention to the respective federations as they cannot depend solely on government and the private sector for funding.
Haynes, who also holds the title of FIBA Governance Commission-er, during his workshop summary presentation, disclosed that the general consensus of the National Development Workshop was that financial grants should be afforded to the National Federations by FIBA.
Delegates also took part in workshops covering the following themes: 'Maximizing opportunities of the FIBA Qualifiers', 'Building the standard development pathway', 'Basketball & media in the digital age' and 'Everybody can be successful with 3×3'.
FIBA President, Horacio Muratore thanked the Hong Kong Basketball Association for its hospitality for organizing the FIBA Mid-Term Congress and noted that FIBA is definitely a lot closer to the National Member Federations and represents a more united basketball family, with FIBA looking forward to the next two years, especially for the launch of the New Competition System, the Road to China 2019 both of which present great opportunities for our members."
IOC Vice President, Mr. Yu Zaiqing noted that engaging with the youths is another major cornerstone of Olympic Agenda 2020 and in this respect FIBA is leading the way by promoting an innovative new game format that has great youth appeal, which is exemplified by the unique 3×3 competition format that clearly resonates with young people everywhere.
Around the Web