DUBAI, United Arab Emirates, CMC – West Indies remained rooted at eighth in the World Test Rankings released on Thursday following the annual update in which series results from 2013-14 are no longer included and outcomes from the 2015-16 series are weighted at 50 per cent.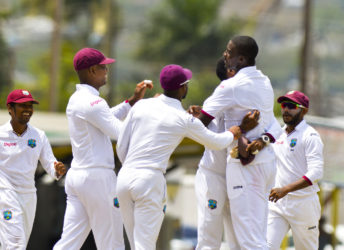 The Jason Holder-led side have gained five points in the period under review and now have a total of 75, trailing sixth-placed Sri Lanka by 16 points and ahead of ninth-placed Bangladesh by six points. West Indies lost their last three Test series against India last year on home soil, followed by Pakistan last year in the United Arab Emirates and the recently-concluded series on home soil.
Out of the 10 matches, West Indies registered wins in two matches, lost six and drew two.
India have retained the No.1 Test ranking, leading South Africa by six points, but only nine points separate third-ranked Australia from seventh-ranked Sri Lanka.
India has moved to 123 points after gaining one point. Second-ranked South Africa however, now have the table-toppers firmly within their sights after vaulting from 109 points to 117 points. This jump means the pre-update gap of 13 points has now been trimmed to just six points. While India and South Africa have made upward movements, Australia, England and Pakistan have headed in the opposite direction.
Australia has retained its third place, but has plummeted from 108 points to 100 points; England has stayed in fourth position, but has slipped to 99 points after conceding two points; while Pakistan have dropped behind New Zealand in sixth place after conceding four points to sit on 93 points.
Comments
Colts secured wins over Kobras and Plaisance Guardians in the Open and U-23 Divisions, respectively, when the Georgetown Amateur Basketball Association (GABA) League Championship continued on Sunday, at the Burnham Court, at Carmichael and Middle streets.

LONDON, (Reuters) – The gradual decline of West Indian cricket is hardly a new phenomenon but the latest capitulation of a once-dominant test match power has brought genuine expressions of sadness throughout the sport.

LONDON, CMC – The fallout from West Indies' humbling innings defeat to England in the opening Test weekend has continued with several of the Caribbean players slumping in the latest International Cricket Council rankings.
Upper Demerara Football Association (UDFA) and Essequibo/Pomeroon Football Association secured easy wins when the UDFA GT Beer Inter-Association Championship continued on Sunday, at the Mackenzie Sports Club ground, Linden, UDFA downed East Coast Football Association 3-1.

(Reuters) – England's Stuart Broad wants to play in the home Ashes series against Australia in 2019, the paceman has said after passing Ian Botham to take second place on the country's all-time list of test wicket-takers.