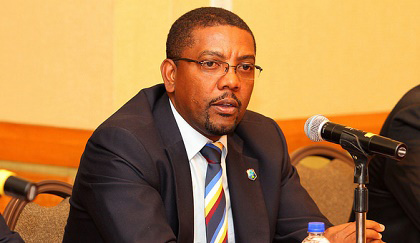 BRIDGETOWN, Barbados, CMC – Cricket West Indies boss Dave Cameron says senior West Indies players need to come to grips with the harsh reality of their performance-based requirements, stressing that experience alone would no longer count in the issuing of central retainer contracts.
Speaking against the backdrop of the furore arising from Darren Bravo's rejection of a Grade C contract last year, Cameron argued that Windies players now controlled their own futures as once they performed, they and not CWI dictated the quality of contract they received.
The often controversial Cameron also contended that seasoned players needed to translate that experience into performances instead of hoping for a high level retainer based on their length of time in international cricket.
"Everyone has been talking for years, we want performance contracts, we want performance contracts. Now we've put in performance contracts and now we have a problem," Cameron told Massy Insurances Life and Length Network in a wide-ranging interview.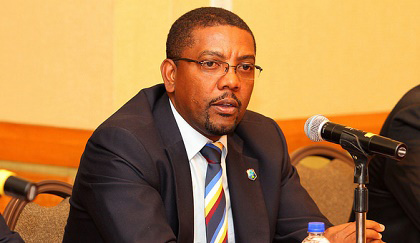 "Telling me whether you've played 10 matches or 20 matches or 30 matches – well where are the numbers? If you have this experience, you should be getting better not worse so how is it that your numbers are better when you just started and after two years you're getting worse."
It was announced by CWI last November that Bravo along with seasoned campaigner Marlon Samuels and all-rounder Carlos Brathwaite, had rejected central retainer contracts.
Media reports subsequently said that Bravo, the Windies premier Test batsman, had been offered a Grade C contract which was lower than the one he previously held.
Cameron then said in a controversial television interview that CWI would not reward declining performances by senior players and appeared to suggest that Bravo had previously held a top tier A contract.
The player took to Twitter to dispute Cameron's assertion but also labelled him 'a big idiot' which resulted him being sent home from South Africa, ahead of the Tri-Nations Series in Zimbabwe.
He has since been barred from selection until he removes the tweet and apologises.
CWI determines the grade of contract on a points system stemming for player performances over a 12-month period and Cameron said on this basis, players were aware of the performances required in order to stake their claim for higher grade contracts.
"What we do is for our players but again, how do we keep compromising a system," the Jamaican administrator explained.
"Everybody writes their own contract. There is no stipulation that says we're only going to have two A contracts, three B's or four C's, there is no stipulation across the board. If everybody is on a A-plus because their numbers merit that, they all get that."
He continued: "All we are saying is that you write your own contract. At the start of the season you are told what averages you need to have, volume of runs, volume of wickets, behaviours, whatever. It's up to you."
Grade A is the highest level contract on offer from CWI and is worth US$150, 000, with Grade B valued at $125,000 and Grade C, $100,000.
Opener Kraigg Brathwaite, who averages 35 from 37 Tests, is currently the only player on a  Grade A contract with Test and one-day captain Jason Holder on a Grade B.
Cameron said going forward it was important that senior players understood the stated policy of CWI.
"Something's happening. Let us address it together but just to say I am a senior guy so therefore I need to be paid more, it's not going to happen with Cricket West Indies," he stressed.
Comments

Guyana guaranteed themselves a spot in the playoffs of the 2018 Cricket West Indies (CWI) Regional Super 50 with a nail-biting four-wicket victory over the Jamaica Scorpions in a rain- affected match yesterday in Antigua.

Members of the Guyana Cricket Board (GCB), the Government of Guyana and the public gathered at the Umana Yana, Kingston yesterday as Guyana was officially declared a host of the International Cricket Council (ICC) Women's World T20 tournament.

In the most exciting match of the evening, current men's national champion, Nyron Joseph defeated one of Guyana's Commonwealth Games selectees, Taylor Fernandes in the third evening of the Bounty Farm Ltd.
The Guyana Amateur Swimming Association's (GASA) annual Republic Anniversary Swimming Championships splashed off yesterday at the National Aquatic Centre, Liliendaal.
Opening the Guyana Table Tennis Association's (GTTA) year was the Mashramani Junior and Cadet Championships yesterday at the National Gymnasium where participants are trying to make the team for the Caribbean Regional Table Tennis Federation (CRTTF) Junior and Cadet Championships.