The Guyana Squash Association (GSA), yesterday, launched the 2017 Caribbean Area Squash Association (CASA) Junior Championships at the Georgetown Club, ahead of Sunday's opening match at the same venue.
The unveiling gave sponsors and patrons, both longstanding and new, the opportunity to extend well wishes to Guyana's top junior squash players as they seek to extend their more than decade-long dominance at the Junior Caribbean Championships.
Troy Peters, Banks DIH Ltd.'s representative, emphasized the importance of supporting squash in Guyana and underlined his company's honour of being part of the supporting cast.
"Banks DIH has been a major sponsor of squash over the years," Peters said in his opening remarks, while adding, "we have been doing a lot of work with squash and we are very proud to be a part of this tournament.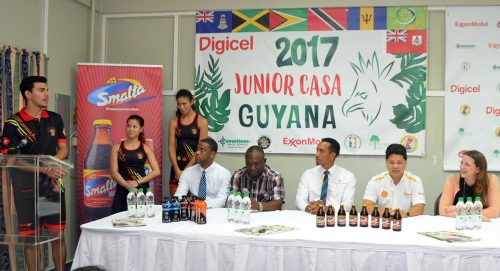 "I've been travelling, in fact, I believe I've watched junior tournaments in Barbados and also Jamaica, and I've seen some of the players perform before. Thirteen is an unlucky number, which has been mentioned, but for us, I know it's a number that we will all be proud of next weekend," the communications manager remarked.
Meanwhile, on the other side of the sponsorship spectrum, new kids on the block Exxon Mobile, in their first year of sponsoring the sport, expressed similar sentiments, with even more jubilation through their representative Kimberly Brasington.
"It's exciting to be a part of this," the oil giant representative said.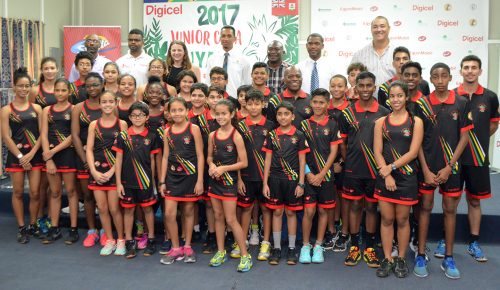 "When the Guyana Squash Association (GSA) came to Exxon Mobile and presented this opportunity and said do you want to be a part of squash in Guyana, I said 12-years running champions, yes sign me up. I'm onboard. I want to get behind something like this.
"But really, we want to support you, we want to support youth and you the junior players and we're looking forward to Sunday, and coming out and watching you claim the 13th running annual championship," Brasington said.
Similar sentiments were echoed by the other representatives from Digicel, Ansa McAl, Bounty Farm, and the Guyana Olympic Association.
The week-long tournament begins on Sunday with the individual tournament which concludes on Tuesday. The team component, for which Guyana is the 12-time defending champion commences on Wednesday.
Meanwhile, the six visiting teams competing alongside the locals, Bermuda, Barbados, Cayman Islands, Jamaica, OECS and Trinidad and Tobago are slated to arrive today and tomorrow.
The Caribbean's top squash players will serve, rally and scurry around the recently renovated courts at the two main venues in Georgetown, the Georgetown Club, on Camp Street, and the National Racquet Centre on Woolford Avenue.
Guyana will springboard their title defense with the likes of Skipper Benjamin Mekdeci, Taylor Fernandes, Shomari Wiltshire, Makeda Harding, Abosaide Cadogan Kirsten Gomes, and Beau Fernandes, all expected to capture major titles.
Around the Web