Defending champion Vehicle Workshop sealed their berth in the semi-final of the Banks DIH Limited XM Rum Inter-Department Domino Championship, defeating Water Plant and Sales Department on Wednesday, at the Thirst Park Sports Club.
Vehicle Workshop secured the win in a tense final round, after being deadlocked at 61-61 with Water Plant, and followed closely by Sales Department on 59, scoring 18 games to end on 79.
Water Plant finished on 70 to earn a semi-final berth, following a nine point haul, while Sales Department finished on 67, after netting eight games.
Prior to the dramatic conclusion, Water Plant had taken the early lead in the match, scoring 14 games compared to the defending champion's 13 games and Sales Department's 10 games.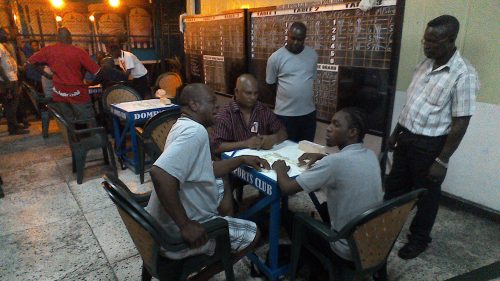 Vehicle Workshop then took the lead in the second round, winning 13 games, to total 26, while Water Plant and Sales Department finished on 24 and 22 games, respectively.
Water Plant battled back in the third period, scoring 14 games to end on 38, whilst Vehicle Workshop finished on 13 games once more, to close on 39. Sales Department suffered a dip in their output to end on 32 games.
However, the fourth round was all about the holders, as they tallied 17 games to extend their lead to 56 games, with Water Plant and Sales Department tied on 47 games.
An anxious conclusion was then guaranteed, as Water Plant secured 14 games to end on 61, with titlist Vehicle Workshop also ending on 61, after recording a meagre five points. Sales Department remained in the hunt on 59, following a 12 game haul.
Meanwhile, Central Service was also victorious on the night, defeating Brewery and Maintenance Workshop. Central Service recorded an impressive 88 games, while Brewery and Maintenance Plant tallied 75 and 66 games, respectively.
Central Service got off to the perfect start, racking up 18 games in the first round, while Brewery and Maintenance Plant scored 14 and five, respectively.
Brewery reduced the Central Service's lead in the second round, scoring 15 games to end on 29, with the latter scoring 14 games to finish on 32. Maintenance Workshop ended the round on 20 games.
Central Service restored their advantage in the third round, tallying 13 games to take their score to 45. Brewery and Maintenance Plant ended the round on 38 and 30 games, respectively.
Brewery continued to pose a threat to Central Service, scoring 13 games to the latter's 10 games, to trail 55-51 at the end of the fourth round, with Maintenance Workshop bringing up the rear with 46 games.
However, Central Service seized control of the contest at the end of the fifth sitting, scoring 16 games to reach 71, effectively ending Brewery's hope of a win, after the latter ended on 62 games.
Maintenance Workshop was effectively eliminated, as they finished on 55. The win was sealed for Central Service, as they recorded 16 games, while Brewery and Maintenance Plant notched 13 and 11 games, apiece.
With the win, Central Service gained an automatic berth in the final. On the other hand, Brewery earned their place in the semi-final round, and will faceoff with Vehicle Workshop and Water Plant on July 5th at the same venue.
The top two finishers from the aforesaid contest will join Central Service in the final.
Around the Web