The Flying Ace Cycle Club (FACC) will run off a 60-mile road race Monday.
The race is being sponsored by the Guyana Beverage Company.
The Open event was launched Wednesday at the company's Berbice Office, Palmyra East Coast Berbice where General Manager, Robert Selman handed over the sponsorship to FACC's Neil Reece.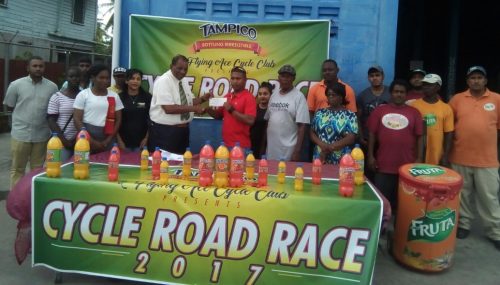 The event will start outside the company's Palmyra office from 10am proceed to the No51 Police Station and finish at the starting point.
Juvenile cyclists will start outside Nand Persaud and Company Limited and end at the finishing Line while the 12-14 and female cyclists will start off from  the University of Guyana Campus  at Tain and end at the finish line.
There will also be events for 9-12 and 6-9 BMX cyclists whose race will start from the Berbice Bridge and end at the finish line.
"This gesture is a small way in giving back to the community from where we garner our support especially in the field of sport and education.  This is one way to tell the people of Guyana and Berbice thanks you for your support over the years," said Selman.
Coach of FACC Randolph Roberts thanked Selman and the Guyana Beverage Company for the sponsorship and said the company's gesture should be an example for other businesses to follow.
Prizes will be awarded to the first 10 finishers overall, first four veterans, first three juveniles, first three 12-14 and first three females. The first two club cyclists will also be rewarded. There will also be 10 sprint prizes at stake.
Around the Web