TAUNTON, England,  CMC – Veteran off-spinner Anisa Mohammed on Thursday urged her teammates to relax, rekindle their self-belief and simply express themselves, as the Caribbean side continued to desperately search for solutions to end their demoralising losing streak.
Speaking in the wake of their latest defeat at the ongoing ICC Women's World Cup – a seven-wicket loss to India Women at County Ground here – Mohammed said while the side comprised of world class players, self-confidence was currently lacking.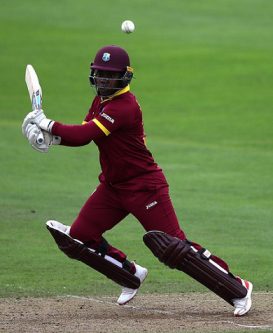 "We just need to relax and keep believing in ourselves. We need to find a way somehow to relax and recuperate, and keep believing that we are great players," said the 28-year-old who has played in 103 ODIs.
"I keep saying to the team: people say we are a great T20 team but this is the same team that helped us qualify automatically for this World Cup so we can win 50-over games as well.
"We just need to keep believing in ourselves and go back to what worked for us in the past three, four years and come out in this World Cup. It's time we pull everything together."
West Indies are winless since arriving in England a month ago with losses to England Women, Southern Vipers and India Women in unofficial warm-up matches, and further defeats to Pakistan Women and South Africa Women in official warm-ups last week.
Last Monday, they were steamrolled by reigning champions Australia in their opening match of the tournament before going under to India Women on Thursday.
Arguing that the side was a quality One-Day International unit, the Trinidadian Mohammed said the batsmen needed to up their game if the Windies were to improve their form.
"I think we need to rotate the strike a bit more in the middle," she contended.
"I think we fell short by about 80, 90 runs but I thought that the opener (Smriti Mandhana) played really well. But we need to score some more runs if we want to win games in this tournament.
"We have some of the greatest players in the world. I think players just need to believe in themselves and believe they can do out and do the job, and just go out and express themselves. As West Indians, we love to express ourselves and we just need to go out there and express ourselves."
Sent in, the West Indies batting collapsed yet again as they struggled to gather a modest 183 for eight off their 50 overs.
In reply, India were reduced to 33 for two at one stage but recovered to easily reached their target thanks to Mandhana's unbeaten 106.
Mohammed said the Windies batsmen were good enough that once they got in, they could post big totals.
"We still believed we could still score over 250 plus. As you can see from today, we have batters all the way down so it's just a matter of players getting in and staying in and valuing their wickets," she stressed.
"It was important for us to get early wickets but defending 186 on a pitch like this we needed a lot more wickets. Unfortunately, the bowlers couldn't pull it off today."
Around the Web