Former World Championship 100m champion, Kim Collins will headline the marquee sprint event at the Aliann Pompey Invitational set for July 15 at the National Track and Field Centre.
According to a release, the famed Collins from St Kitts and Nevis will headline a deep field in the Banks DIH's men's100m which also will include Emmanuel Callender, Trinidad & Tobago 2017 National Champion and two-time Olympic bronze medalist. Callender's time of 10.10s was good enough to win Trinidad's recently concluded Senior Championships. Other notables in the race are Levi Cadogan of Barbados and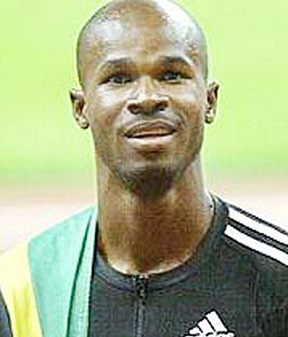 Chavaughn Walsh of Antigua and Barbuda. The list of Guyanese who will start the race depends on the outcome of the Senior National Championships to be held today and tomorrow at the Leonora Stadium.
A living legend, Collins, 42,  has a personal best of 9.93s in the 100m event. He earned his country's first gold medal at the Championships which was held in Paris, France in 2003.
The race is named for one of the major contributors to the success of the competition, Banks DIH – specifically the brands Powerade, Malta Supreme and Rainforest Waters.
Meet Director, Guyana's four-time Olympian Aliann Pompey had this to say:
"I'm thrilled about this partnership. Banks from the beginning understood the vision of this competition, what it could do for our athletes, what it meant for Guyana on the international track scene, and bought in right away. I'm glad it wasn't a one-off situation, as they are back in a much bigger way to support the event, particularly the Men's 100m dash. I thank Banks from the bottom of my heart for working so hard to make this happen. It costs a pretty penny, but I believe it's worth it, and I'm glad they do as well. Mr. Mortimer Stewart has been behind the scene making sure the pieces come together and that athletes will be well hydrated with Banks products. I want to thank Clive Pellet for making the important introductions and seeing it through. I owe an immense amount of gratitude to Mr. Carlton Joao for trusting us to do a great job while aligned with the Banks DIH brand."
The international field, as well as the field of Guyanese runners to start the Banks DIH Men's 100m dash are listed below.
Kim Collins (SKN)
Emmanuel Callender (TRI)
Tre Houston (BER)
Chavaughn Walsh (ANT)
Jaqouhne Hoyte (BAR)
Virjillo Griggs (PAN)
Levi Cadogan (BAR)
Tahir Walsh (ANT)
Ramona Hill (JAM)
List of potential Guyanese starters (list to be finalized after the Senior National Champs on July 2 & 3.
1    Adam Harris
2    Andel Perry
3    Jeremy Bascom
4    Lloyd Cummings
5    Chavez Agedly
6    Compton Caesar
7    Stephon Boodie
8    Emmanuel Archibald
9    Deandrew Denny
10    Salish Nauth
11    Tevin Garraway
12    Davin Drawers
13    Akeem Peters
14    Carlos Trinidad
15    Terron Montford
16    Tyrell Peters
17    Quason Anthony
18    Owen Adonis
Around the Web