Marian Academy won the boys U14 and U19 titles while St. Rose's High and President's College bagged the boys U16 and girls championships respectively when the Youth Basketball Guyana (YBG) Georgetown/Regional Conference Championship concluded Friday at the Cliff Anderson Sports Hall.
In the U19 final Marian Academy edged Plaisance Secondary 68-65 for the Carifesta Avenue side's sixth regional title.
Timothy Thompson led the way with 21 points and 12 rebounds while Jether Harris, playing in his second final of the evening, contributed 17 points and six rebounds, while Jahleel Young and Josiah Daniels chipped in with 11 and nine points respectively.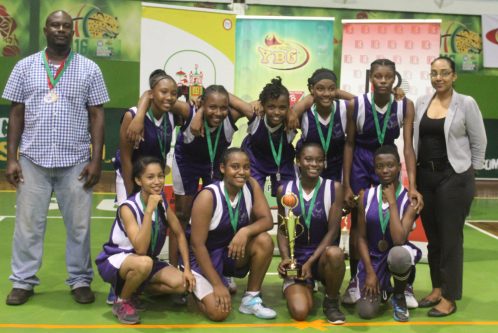 For Plaisance Secondary, Nigel Bowen, the division's Most Valuable Player (MVP) and Best Defender (BD), tallied 15 points, five rebounds and six steals. Jared Sears top scored with 16 points and eight rebounds.
In the U14 boys final, Marian Academy outlasted President's College 64-56.  Most Valuable Player (MVP) of the division Harris recorded a double-double of 38 points, 28 rebounds and three assists.
He was assisted by Meshach Allicock who registered eight points and five steals and Ethan Fernandes who netted eight points. For President's College, Gabriel Lin, the eventual best defender tallied a double-double of 35 points, 35 rebounds and seven steals while Jushawn Bailey added four points and as many rebounds.
In the girls division, President's College edged Marian Academy 35-34. division MVP, Roshelle Campbell tallied 19 points and 14 rebounds in the win while Saffiya Green, the best defender, added nine points and 17 rebounds.
For Marian Academy, Jada Mohan scored 21 points and 10 rebounds while Renuka Ramcharran contributed seven points and three rebounds.
In the U16 boys title match, St. Rose's downed President's College 78-68. Anthony Yansen, MVP of the division, scored 34 points, 13 rebounds and six steals while Kwesi Roberts added 11 points, 16 rebounds and Atilla Williamson, 10 points, six steals and four assists.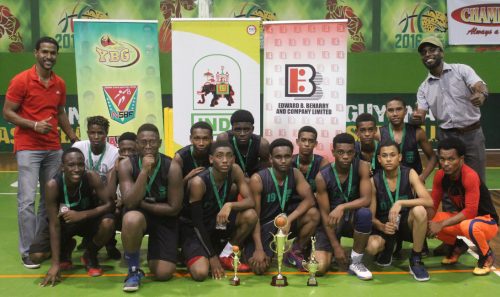 For President's College, Rankin McDonald top scored with 22 points and 12 rebounds, whilst Lanon Friday tallied 11 points, nine rebounds and Ashriel Burnett recorded 10 points, six steals.
The National Schools Basketball Festival (NSBF) also known as the National Championships, will start at the same location on Monday from 13:00hrs.
In the opening fixture, Marian Academy will oppose New Amsterdam (NA) Multilateral in a girls fixture while Mackenzie High will engage President's College at 14:40hrs in the U14 section.
At 15:30hrs, St. Rose's High will oppose Bishops' High in the U16 division while Mackenzie High tackles NA Multilateral in the U19 division at 16:30hrs.
In the final two matches, Linden Technical Institute (LTI) will oppose Kwakwani at 17:30hrs and School of the Nations will engage Marian Academy at 18:30hrs in the U19 division.
The tournament is sponsored by the National Sports Commission (NSC) and the Edward B. Beharry and Companies Ltd.
Around the Web