Taylor Fernandes, Benjamin Mekdeci, Shomari Wiltshire, Daniel Islam and Makeda Harding were the major winners on opening day of the 2017 Junior Caribbean Squash Championship at the Georgetown Club Facility and National Racquet Centre.
Fernandes humbled Madeleine Rose (OEC) 11/1, 11/1, 11/2 in their Girls U19 quarterfinal. On the other hand, Mekdeci dismissed Nicholas Caddle (Tri) 11/3, 11/3, 11/7 in the Boys U19 section.
Meanwhile, Wiltshire hammered Pierce Terry (Cay) 11/1, 11/2, 11/3 in the Boys U15 zone, while Daniel Islam downed Anaya Smith (OEC) 11/5, 11/8, 11/2 in the Boys U17 section.
Harding edged Jodi Smith-Padmore (Bar) 11/9, 11/8, 6/11, 4/11, 17/15 in the Girls U17 division. The event resumes today at both venues. Below features a list of results from the opening day action.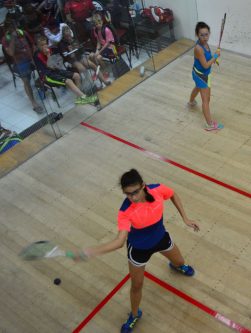 Boys
U11
Jaydon Williams (USA) defeated Armaan Suleman (Bar) 11/1, 11/2, 11/4
Zishan Motara (Bar) downed Nathan Rahaman (Guy) 11/2, 11/3, 11/5
Andrew Cox downed Chad DeAbreu (Guy) 11/7, 11/8, 11/9
Nathan King (Bar) downed Shiloh Asregado (Guy) 11/2, 11/6, 12/10
U13 – Quarterfinal
Jace Jervis (Cay) downed Tobias Levy (Jam) 11/2, 11/3, 11/1
Aidan Parris (Bar) brushed aside Ethan Jonas (Guy) 11/5, 11/5, 11/4
Round of 16
Tobias Levy (Jam) edged James Mekdeci (Guy) 8/11, 10/12, 11/5, 11/6, 11/0
Demetrius DeAbreu (Guy) dismissed Neil McComb (Cay) 11/5, 11/6, 11/8
Michael Alphonso (Guy) crushed Graham Moss (OEC) 11/3, 11/0, 11/8
Ethan Jonas (Guy) downed Ringer Daniel (OEC) 11/7, 11/6, 11/9
Aman Dhiman (Jam) downed Quinn Lilico (Guy) 11/3, 11/7, 11/6
U15 – Quarterfinals
Shomari Wiltshire (Guy) hammered Pierce Terry (Cay) 11/1, 11/2, 11/3
Darien Benn (Bar) defeated Sebastian Levy (Jam) 11/5, 11/5, 11/2
Round of 16
Samuel Ince-Carvalhal overcame Joshua Poon (Tri) 13/11, 12/10, 11/6
Matthew Elliot (OEC) defeated Gianni Carpenter (Guy) 11/7, 11/6, 11/9
U17 – Quarterfinals
Daniel Islam (Guy) defeated Anaya Smith (OEC) 11/5, 11/8, 11/2
Kai Bentick (Svg) crushed Kobie Khan (Tri) 11/7, 11/4, 11/6
Khamal Cumberbatch (USA) brushed aside Adam Ardito (Jam) 11/2, 11/6, 11/6
Round of 16
Adam Ardito (Jam) crushed Anthony Islam (Guy) 11/7, 11/8. 11/0
Kemar Lord (Bar) crushed Seth Figueira (Tri) 11/8, 11/2, 11/0
Anaya Smith () edged Chemar Burnham (Bar) 7/11, 11/9, 11/8, 11/9
Kobie Khan (Tri) defeated Karan Dhiman (USA) 11/8, 11/7, 11/9
U19 – Quarterfinal
Ben Mekdeci (Guy) dismissed Nicholas Caddle (Tri) 11/3, 11/3, 11/7
Round of 16
Alexander Cheeks (Guy) downed Reginald Brewster (USA) 3/11, 11/7, 10/12, 11/8, 11/1
Jonathan Walker (Jam) crushed Nicholas Shaw (Tri) 11/7, 11/1, 11/2
Tahjia Lumley (Jam) brushed aside Jonathan Blanc (Tri) 11/2, 11/6, 11/3
Rithew Saywack (Guy) overcame Isaiah Robinson (Cay) 7/11, 9/11, 11/8, 11/7, 11/5
Zachary Proverbs-Harris (Bar) defeated Nicholas Caddle (Tri) 11/6, 11/6, 11/4
Mikal Quashie (USA) defeated Christian Dube (Cay) 12/10, 9/11, 3/11, 11/9, 11/7
Girls
U11
Beau Fernandes (Guy) defeated Christiana Fernandes (Guy) 11/5, 11/5, 11/7
Rebekah Nichols defeated Isabella Ramjohn 11/1, 11/2, 11/1
 U13 – Quarterfinals
Paige Fernandes (Guy) defeated Sigourney Williams (Tri) 11/5, 11/5, 11/6
Hailey Moss (OEC) downed Haley Carpenter (Guy) 11/5, 11/4, 11/5
Kirsten Gomes (Guy) crushed Olivia Kluyver (Cay) 11/0, 11/1, 11/4
 U15 – Quarterfinals
Chelsie Samuel (Bar) humbled Aliyah Persaud (Guy) 11/3, 11/4, 11/5
Madison Fernandes (Guy) downed Aimee De Verteuil (Tri) 11/1, 11/6, 11/6
Abosaide Cadogan (Guy) downed Sheelah Henry (Cay) 11/1, 11/2, 11/3
 U17 – Quarterfinals
Meagan Best (Bar) defeated Sarah Lewis (Guy) 11/0, 11/1, 11/2
Jada Smith-Padmore (Bar) defeated Mia Lake (USA) 11/4, 11/4, 6/11, 11/9
Makeda Harding (Guy) edged Jodi Smith-Padmore (Bar) 11/9, 11/8, 6/11, 4/11, 17/15
Jada Pitcairn (Cay) crushed Chelsea Lequay (Tri) 11/2, 11/2, 11/1
 Round of 16
Sarah Lewis (Guy) defeated Jinan Al Rawi (Tri) 11/4, 11/4, 11/5
 U19 – Quarterfinal
Taylor Fernandes (Guy) defeated Madeleine Rose (OEC) 11/1, 11/1, 11/2
Amanda Haywood (Bar) dismantled Kali MacLean (Cay) 11/3, 11/1, 11/1
Around the Web