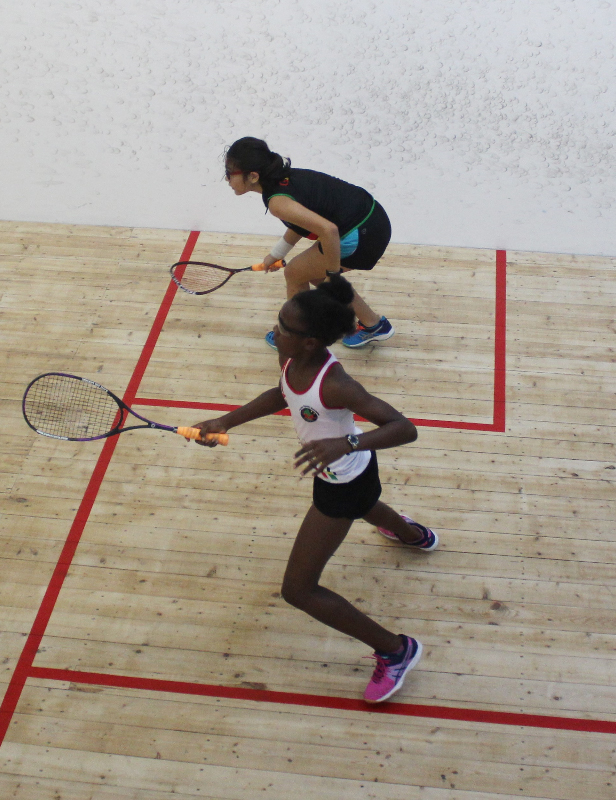 Guyana's junior squash players dominated the semifinals to storm their way into four individual singles finals today after downing the region's top players in the 2017 Junior Caribbean Squash Championship at the Georgetown Club yesterday.
The day of semifinals success started positively for the Guyanese when 10-year-old Mohryan Baksh pulled off a spirited performance to defeat Brody McComb (Cayman Islands) to win his Under-11 semifinals.
Baksh trailed in the first set 5 – 10 but never gave up as he clawed his way back to claim the first 12-10.
The Mae's Primary School student, who seemed shaky in the first set, appeared calmer to clinch the second and third 11-3 and 11 – 4 to storm his way into the boys Under – 11 final.
Kirsten Gomes, during that time, had breezed her way into the girls Under-13 final after she defeated Hailey Moss (Bermuda) in straight sets (11-5, 11-3, 11-6)
Meanwhile, Shomari Wiltshire, as he usually does, executed a number of difficult drop shots and got the ball in peculiar areas to win his under -15 semifinal match 11-2, 11-3, 11-6 against Darien Benn (Barbados).
Abosaide Cadogan on the other hand won a scrap between fellow Guyanese Madison Fernandes to book a place in the girls Under -15 final against Chelsea Samuel (Barbados).
Cadogan took the first set 11-8 but Fernandes fought hard in the second set to keep it tied at 7,8, 9 and 10 before closing out that set 12-10.
Cadogan, however, came back strongly to take the third and fourth 11-7 and 11-3.
In other results,  Michael Alphonso lost to Jace Jarvis (Cayman Islands) in the boys Under -13 semifinals 11-4, 11-2, 7-11, 11-9 while Makeda Harding went down to Jade Pitcairn (Cayman Islands) in straight sets (11-8, 11-6, 11-5) in her Under 17 semifinal and  Daniel Islam surrendered to Kai Bentick (OECS) 11-7, 11-9, 12-10 in his Under -17 semifinal.
Late Flash! Guyana's Benjamin Mekdeci won his semi-final encounter last night by a 3-0 score. See details in tomorrow's newspaper.
Around the Web