KINGSTON, Jamaica, CMC – Rookie seamer Kesrick Williams says he never once doubted his ability when skipper Jason Holder asked him to bowl the pivotal penultimate over of the fourth One-Day International against India last Sunday.
Handed the ball with India requiring 16 from the last 12 deliveries of the game in pursuit of 190 for victory, Williams remarkably conceded only three runs while delivering the prized wicket of MS Dhoni – considered one of the best finishers in the limited overs format.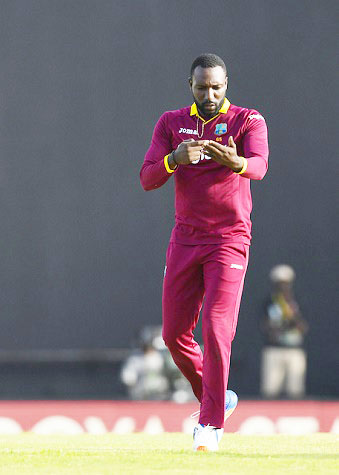 "I was really confident. These are the times that I live for," said the 27-year-old Williams, who was playing just his second ODI. It's only two things that can happen: you can come out victorious or you can lose. So these are time times I want to cherish and to really grab.
"When I got that ball in my hand, I looked at the captain and I said 'skip, how much do you want me to defend.' He said: 'how much can you?' I said: 'I can go about three runs in this over and he said: 'ok that would be great. If you give me that at the end I can work with that.'
"I just went out there and executed and did whatever he asked me to."
Williams put his full repertoire on show during the over, producing a combination of slower and quick deliveries along with length and full length balls which Dhoni found difficult to get away.
The Vincentian has become known for his variations which have been used to good effect in the T20 format where he is now an established member of the attack.
And while noting that his many variations had worked well for him thus far, he stressed that it was a process of continuing to perfect them.
"You can never ace these deliveries. It's something you have to practice all the time because even though you bowl slower balls you have to bowl them in the right areas – you can't bowl them in areas where guys are going to have a free hit," he explained.
"I try very hard to work on these as much as possible in the nets. I can still bowl up to 85, 86 miles per hour so it's hard for a batsman to pick you when you can bowl up to 85 and then drop it down to about 62.
"I try to develop that into my game and … see how much that can work for me and it's doing well so I think I will run with that." The victory was a massive one for West Indies as it helped them avoid a third straight loss in the five-match series and escape another series defeat.
With the result, the series is now perched at 2-1 in India's favour heading into the final ODI at Sabina Park in Jamaica on Thursday.
Williams said above all, the victory was a major boost in confidence for the team especially after they had copped heavy criticism for their recent losses.
"It is always a good feeling to win with West Indies but it felt a lot better after hearing all the chatting and chirping from people outside," he said.
"It felt really good to go out there and prove them wrong, to show them we are a young team, yes, but we can play against any international team in the world and beat them convincingly.
"It felt really good to go out there and win in a West Indies uniform in an ODI game and in my second game as well and against India, and doing so well at the death against one of the world's best finishers Dhoni.
"It feels good to go out there and perform and do well against these guys. It's a plus for me and will definitely give me a boost."
Around the Web