LONDON, (Reuters) – Roger Federer has risen above mere mortals on Wimbledon's lawns over the past 14 years so it was almost comforting to learn the king of cool had an attack of nerves before his second-round match on Thursday.
Usually so serene on his Centre Court stage, the 35-year-old Swiss was visibly snatching at some shots early on against 79th-ranked Serb Dusan Lajovic and dropped his first service game before ironing out the kinks to win 7-6(0) 6-3 6-2.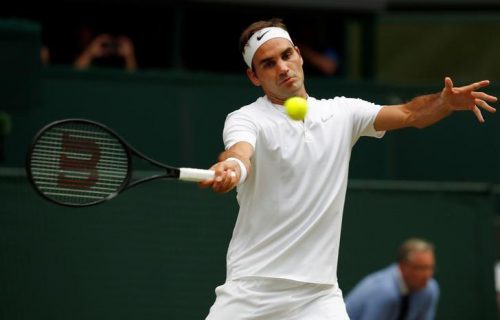 His record-extending 86th win at the All England Club put him closer to becoming the first man to claim eight Wimbledon singles titles, having first lifted the trophy in 2003, but it was far from a routine day at the office for the 35-year-old.
"I was feeling nerves for some reason. Not sure why," third seed Federer, who will face German serve-and-volleyer Mischa Zverev in round three, told reporters.
"It was definitely more acute than I normally feel it. It was just like all of a sudden I was walking up to the locker room after my warm-up and I was feeling excited and nervous.
"Then when I walked to the court it was still ongoing and after the warm-up it was still there. And down 1-0, 0-40, it was still there, and it was still there at 6-6 in the first set.
"Just took a while to shake it off."
That Federer still has nervous tension after winning 18 majors is perhaps the strongest argument to suggest he can reclaim the title he last won in 2012.
He is clearly not a man just playing out the last few years of his magnificent career for fun.
"It's weird how sometimes you can be way more nervous for a second round than for a final," he said. "I'm happy I got through this one feeling the way I did, because in a way it's strange playing this way when you're so tense."
His early-evening match became a piece of cake after he demoralised Lajovic with a masterful tiebreak.
Around the Web