Red Jet held off a late charge from Party Time to win the feature I and lower 1400m event of the Police Horse Race meet and the $200,000 bounty by about six lengths yesterday at the Rising Sun Club.
Starting as the odds-on favourite, the steed from the Samsundar Stables took command at around the halfway point by passing early race leader Puppy Tail.
With jockey, Kevin Blake in the saddle, Red Jet brushed aside a brief challenge from Party Time of the J. DeMattos Stables who galloped neck-to-neck with the winner during the third quarter mile. Puppy Tail, finished a further three lengths back in the three-horse field.
It was a signature win for the chestnut mare for the 2017 season. With the impressive win, the champion race horse has stamped himself as a favorite for the grand Guyana Cup which will be staged on August 13 at the same venue.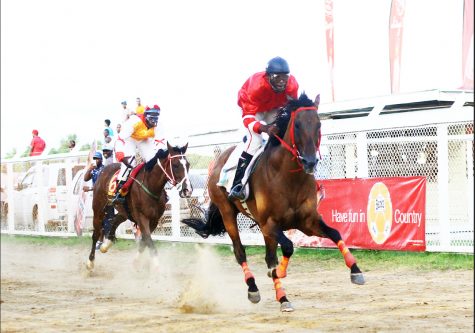 Prior to the feature event, there were three other races, two of them were won by Natural Beauty. Here is a summary of them:
Race 1 (L2 Non-Winner-1000m)
Bound To Be True ($60,000)
Timely
Akeela
Race 2 (L and Lower-1000m)
Natural Beauty ($100,000)
Dirt Man
Little Star
Maximum
Race 3 (K and Lower-1000m)
Natural Beauty ($120,000)
Irish Baby
Victoria's Secret
The 'Sport of Kings' continues on July 30 at the Kennard Memorial Turf Club with the annual Pre Emancipation fixture. (Emmerson Campbell)
Around the Web