Linden teams Dave and Celina's All-Stars and Jermaine and Family Silver Bullets secured semifinal berths when the 5th Guinness 'Greatest of the Streets' national championships commenced Saturday.
Played at the Mackenzie Tarmac, Linden, in front of a mammoth crowd, Dave and Celina's All-Stars edged fellow Linden unit Swag Entertainment 2-1 on penalty kicks after the match ended in a scoreless draw at the end of regulation time.
Silver Bullets then edged Melanie-B 1-0 through a Damian Williams conversion in the 19th minute.
In the round of 16 action, Dave and Celina's All-Stars whipped East Bank Gunners 6-0. Kenard Simon recorded a hat-trick in the 32nd, 36th and 38th minute while Keon Sears bagged a brace in the 19th and 30th minute and Cordell Johnson scored in the 34th.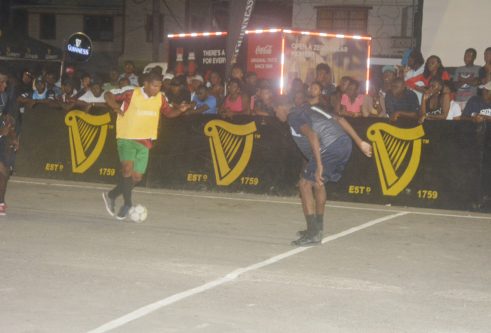 Meanwhile, Silver Bullets edged Tucville 2-0 on penalty kicks after the match ended 1-1. Robin Adams scored in the 17th minute for Silver Bullets while Delon Williams netted one minute later for Tucville.
Melanie-B edged New Amsterdam (NA) Kings 2-0 on penalty kicks following a scoreless draw while Swag Entertainment defeated Buxton Diamond 8-2.
Colwyn Drakes recorded a helmet-trick in the second, third, ninth and 31st minute while Shane Luckie tallied a hat-trick in the seventh, 28th and 36th minute. Adding to the score line in the 34th minute was Royston Fraser.
For Buxton, Kevon Assaye and Dwayne Jacobs scored in the sixth and 36th minute respectively.  The event will resume on Friday at the Pouderoyen Tarmac.
Plaisance-B will engage Broad Street at 20:00hrs, while Showstoppers will match skills with Riverview from 20:45hrs. The third fixture will pit the Money Team against Sparta Boss at 21:30hrs, while Back Circle will match skills with Hustlers from 22:15hrs.
The winner of game one will battle the victor of game four, while the victor of game two will tackle the winner of game three for the remaining two semifinal berths.
The semi-final and final will take place at the Demerara Park Parking Lot on July 15.
Winner of the event will receive $550,000 and the championship trophy, while the second, third and fourth place finishers will pocket $300,000, $200,000 and $100,000 respectively.
Around the Web