If you are a fan of exhilarating, world class Track and Field action, then the place to be on Saturday is the National Track and Field Centre to witness live the second staging of the Aliann Pompey Invitational.
The fixture, which gets off to a flying start at 15:00hrs, will see 14 Olympians battling for lucrative cash prizes in various events including Kim Collins, a former 100m World Champion.
The famed Collins, from St Kitts and Nevis, will headline a deep field in the Banks DIH's Men's 100m which also will include Emmanuel Callender, Trinidad & Tobago 2017 National Champion and two-time Olympic bronze medalist. Callender's time of 10.10s was good enough to win Trinidad's recent Senior Championships.
These and other details were disclosed yesterday at Olympic House during the official launch of the event.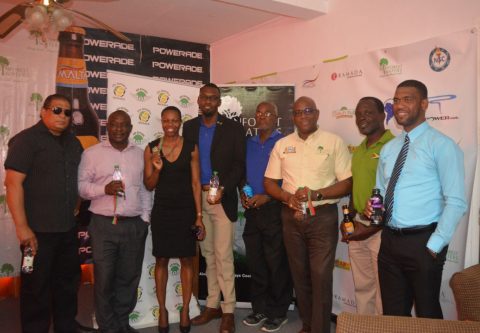 Pompey, a former Commonwealth gold and silver medalist and the national 400m record holder, told media operatives that in excess of 30 international athletes will invade these shores for the high-calibre affair. Their purposes would be to either warm up for or chase a qualifying standard for the IAAF World Championships in London, England next month.
Last year, the IAAF-sanctioned event was a qualifier for the 2016 Olympic Games which was held in Brazil.
The 39-year old Pompey stated that Guyanese athletes, based here and abroad will match strides with athletes from Antigua, The Bahamas, Barbados, the British Virgin Islands, Canada, the Cayman Islands, Dominican Republic, Jamaica, Puerto Rico, St Kitts and Nevis, St Vincent and the Grenadines, Trinidad and Tobago, the United States of America and the U.S.V.I.
In addition, Pompey revealed that the total prize money has risen from US$6,000 to US$18,500 after adding prize structures to the men's triple jump as well as the 400m men and women hurdle events.
Director of Sport, Christopher Jones, also pointed out the government's support of the event, noting that meet such as these brings "development" to the country and their athletes.
Marketing Manager of Fly Jamaica in Guyana, Carl Bowen, said that Pompey's love for sport was the main reason the company is onboard and he urged the public to come out and support the local athletes.
Meanwhile, local conglomerate, Banks DIH Limited, represented by Communication Manager, Troy Peters, commended Pompey for giving back to the sport.
Around the Web