National junior player Priscilla Greaves is the lone newcomer on the female team named by the Guyana Table Tennis Association (GTTA) to participate in the 59th annual senior Caribbean Table Tennis Championships next week in Havana, Cuba.
Greaves, who is at the moment on her way to the United States of America after participating in a training stint in Shanghai, China, will join with three other members of the team in New York, where they will depart for Cuba on Monday.
The players in the USA at the moment are Trenace Lowe, Shemar Britton and Chelsea Edghill.
Former national player Jody Ann Blake makes a return to the female team which also includes Natalie Cummings, who was voted the best Guyanese player at the Islamic Games in Baku, Azerbaijan, earlier this year.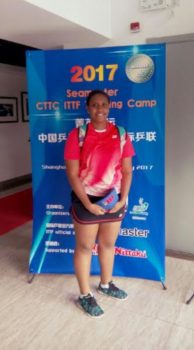 There are no surprises in the men's team which will be led by national champion Christopher Franklyn and includes, Nigel Bryan, Joel Alleyne and Britton.
Franklyn, Bryan and Alleyne were all members of the Guyana male team to the games in Azerbaijan.
The GTTA also named former national players Diane Chance and Colin France and George Nicholas and Vibert `Cardo' Williams, a former national footballer as the veteran players.
The championships will be held 18th – 23rd of July and according to reports only six countries, including Caribbean champions Puerto Rico, will be participating.
Meanwhile, GTTA president, Godfrey Munroe said yesterday that while the association intends to send a full team, the final composition of the squad will depend on finance.
"The biggest bugbear for us has been the cost, traveling between Guyana to Cuba. The tickets from the U.S is not as expensive but we still have to cover the aspects of accommodation, meals, and travels for them," Munroe told Stabroek Sports.
Guyana last year sent a men's team only to the championships and according to Munroe, the inclusion of the females, this time around should bolster Guyana's medal chances.
Around the Web