International Amateur Athletic Federation (IAAF) World Championship bound athletes along with potential qualifiers were buzzing with excitement yesterday at the Ramada Princess where the final press briefing was held for today's second annual Aliann Pompey Invitational.
The mood was light as the meet headliners, Kim Collins along with Winston George and Brenessa Thompson, both of whom have already qualified for this year's Championship and other athletes posed for selfies, laughed and smiled while answering questions from the media.
Each and every one of the track and field standouts reiterated how "excited" they were to compete on Guyana's soil before representing their respective territories next month at the prestigious event in London, England.
Today's meet which will give local and international athletes a chance to qualify for the prestigious event, runs off from 15:30hrs at the National Track and Field Centre in Leonora.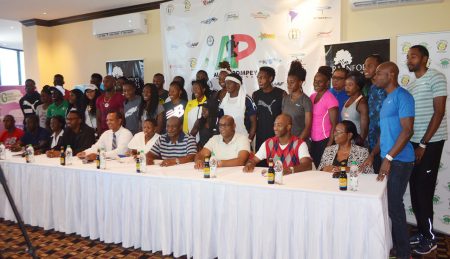 It comprises 13 track and five field events: Men's 100m, Men's 100m (masters), Women's 100m, Men's 200m, Women's 200m, Men's 400m, Men's 400m hurdles, Women's 400m, Women's 400m hurdles, Men's 800m, Women's 800m, Women's 1500m, Men's 3000m, Men's Javelin, Men's Triple Jump, Women's Triple Jump and Women's High Jump.
The male and female sprints will be the marquee events to watch.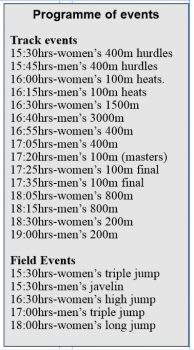 The famed 42 year-old Collins who has a personal best of 9.93s in the 100m event while snaring his country's first gold medal at the championships which was held in Paris, France in 2003, will have a showdown with Trinidad and Tobago's Emmanuel Callender who has personal bests of 10.05 seconds for the 100-metre dash and 20.40 seconds for the 200-metre dash. Callender ranks among the top ten Trinidadians ever for the shorter distance.
The inform 33-year-old is island nation's current\ National 100m Champion and a two-time Olympic bronze medalist. Callender's time of 10.10s was good enough to win Trinidad's recently concluded Senior Championships.
Local standouts, Compton Caesar along with Emmanuel Archibald, Tevin Garraway and Rupert Perry will also be in the medal hunt.
George, who will compete in the men's 400m, is joined by sprinters Thompson (100m and 200m) and Kadecia Baird who will headline the women's 400m event.
The national 400m record holder, who represented Guyana at the Olympics in 2012 and last year, is scheduled to match spikes in the quarter-mile event with USA based athlete, Stephan James, Sheldon Mason (Trinidad), Rodney and Malik Smith (USVI), local star Arinze Chance and others.
Thompson, who broke the national 200m record on two occasions last year en route to clinching an Olympic berth, will come up against Kadecia Baird (silver medalist at World Juniors, CARIFTA Games gold medalist), Barbados' Jade Bailey, Tawana Meadows (USA), Kenisha Phillips and others.
Other top names for the meet which is being contested by more than 100 athletes from 15 territories include Samuel Lynch, Cleveland Thomas, Andrea Foster and Winston Missigher. Admission is $1000. See you there.
Around the Web