A 42 year-old boldly predicting to run a sub-10 100m race in Guyana is unheard of.
That is until the star attraction of today's Aliann Pompey Invitational, Kim Collins, the 2003 World 100m champion, took the microphone yesterday at the Ramada Princess during the fixture's final press briefing.
On the eve of the second annual fixture which will run off today at the National Track and Field Centre, the sprint legend from St Kitts said he is looking forward to putting on a show by running below the 10-second barrier.
Said Collins "I want to run sub-10 tomorrow" after enquiring what was the fastest time ever recorded on the track (10.22s).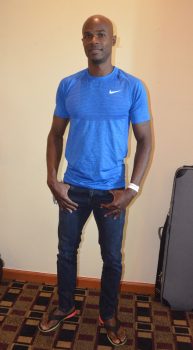 "That 10.22 has to go" he added as the athletes present clapped and cheered in agreement.
The evergreen sprinter who has a personal best of 9.93s in the 100m event, snared his country's first gold medal at the championships which was held in Paris, France in 2003.
A well traveled athlete, Collins who has represented his island nation at the prestigious Olympic Games on six occasions, disclosed that it is a pleasure to run in Guyana for the first time during his illustrious career.
"Thank you for inviting me, it's a pleasure to be here and I look forward to entertaining the Guyanese public."
He then encouraged fans to come out and enjoy a day filled with high calibre racing.
Admission is $1000 and athletes are scheduled to get in the blocks from 15:30hrs.
Around the Web