Under-19 cricket coach Julian Moore has expressed confidence in his side's chances of putting up a good showing in the 2017 Regional tournament as his side commenced preparations Friday.
"We came in camp on Thursday evening and we have a few games scheduled; a three-day practice game and two one-day games as well because the tournament accommodates for both so we thought it best to centre our preparations for both," Moore told Stabroek Sports.
Moore made the comments moments before heading into one of the sessions planned for his group.  He,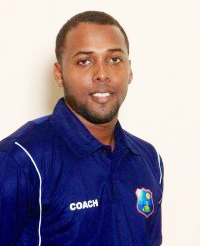 however, added: "apart from that, we have a few practice sessions along with focusing on the mental aspects slated for the nights and the indoor facility is always available to do some technical work."
Asked about the weather concerns and how it will affect his side's preparations, Moore said: "The rain is something that we don't have any control over but I thought yesterday we made good use of the day. We were indoors where we did some work at the Chetram Singh Centre of Excellence. "But yeah, it's unfortunate that today [Saturday] again the rain prevented us from getting any play. Nevertheless like I said, we have the option of using the indoor facilities to do some work." The 31-year-old, Moore, commenting on Guyana's chances of winning a fourth consecutive title in the one-day format said that he was quite confident of coming away with the win, pointing to the balance in his side.
"Yeah, I think the selectors did a good job in selecting the team. It's a good all-round team and we have some experienced guys from last year and Joshua Persaud and Bhaskar Yadram who are obviously in the West Indies Youth Team, so I think our chances are good.
"It's going to be a competitive tournament but judging from the Inter-County tournament, I think we have the talent to go do well," he added. AS a coach, Moore has previously enjoyed success twice at the Regional level, although with the national Under – 15 side. He will begin his quest to transfer that success to the U19 level when the team departs for the Cricket West Indies Regional U19 tournament which takes place July 21 to August 28 in St. Kitts.
Around the Web