LONDON, (Reuters) – Garbine Muguruza clinched a maiden Wimbledon title yesterday with a stunning demolition of Venus Williams, whose dreams of a fairytale victory at the age of 37 were blown apart in a devastating second set.
Like many a brutal demise, the end was messy and at times uncomfortable to watch as the Spaniard cut loose after tense early exchanges, winning nine straight games to crush the demoralised American 7-5 6-0.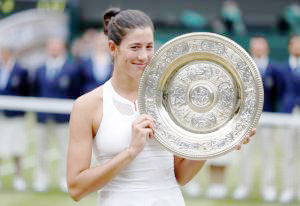 It was Muguruza's second grand slam title to add to last year's French Open and was indisputably deserved after she absorbed everything her opponent could throw at her before taking control and inflicting a punishing triple break in the final set.
She was robbed of the picture-perfect conclusion and forced to wait as Hawk-eye was called on to confirm that a mis-hit forehand from Venus had landed out before her emotional celebrations could begin.
It was the 23-year-old's second Wimbledon final, having lost to Venus's sister Serena on the same stage in 2015, and her legs gave way as she fell to the ground after the decision was relayed on Centre Court's giant scoreboards.
"Two years ago I lost in the final to Serena and she told me one day I was going to maybe win and hey, two years after here I am," she said courtside.
Comments

Afghanistan and Ireland in shootout today for final place ICC Media: The United Arab Emirates broke around 20 million hearts and made nearly 50 million friends when they all but eliminated Zimbabwe from the ICC Cricket World Cup 2019 race to give Afghanistan and Ireland a lifeline by turning their last Super Six match as a shootout for the last remaining spot in the ICC's pinnacle 50-over event which will be staged in England and Wales from 30 May to 14 July.

AUCKLAND, (Reuters) – New Zealand captain Kane Williamson was in sight of his 18th test century as the ball dominated the bat on the opening day of the two-match series with England dismissed for a record low score of 58 at Eden Park on Thursday.

Colts clinched the First Division title, while Plaisance Guardians secured the Under-23 Championship, as they both swept their respective best-of-three finals, 2-0, as the Georgetown Amateur Basketball Association (GABA) 'Knockout Championship' concluded on Wednesday.

Harvard Rugby Club of Trinidad and Tobago will arrive in Guyana today ahead of tomorrow's showdown at the National Park, in the Guyana Rugby Football Union (GRFU)/Hairoun Beer Sevens tournament.

The 2018 cycling season will resume tomorrow in the National Park with the staging of the Fifth Annual Star Party Rental 11-race programme.