LONDON, (Reuters) – Garbine Muguruza clinched a maiden Wimbledon title yesterday with a stunning demolition of Venus Williams, whose dreams of a fairytale victory at the age of 37 were blown apart in a devastating second set.
Like many a brutal demise, the end was messy and at times uncomfortable to watch as the Spaniard cut loose after tense early exchanges, winning nine straight games to crush the demoralised American 7-5 6-0.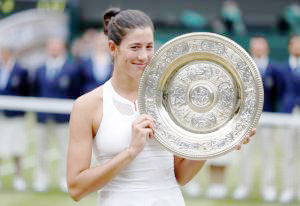 It was Muguruza's second grand slam title to add to last year's French Open and was indisputably deserved after she absorbed everything her opponent could throw at her before taking control and inflicting a punishing triple break in the final set.
She was robbed of the picture-perfect conclusion and forced to wait as Hawk-eye was called on to confirm that a mis-hit forehand from Venus had landed out before her emotional celebrations could begin.
It was the 23-year-old's second Wimbledon final, having lost to Venus's sister Serena on the same stage in 2015, and her legs gave way as she fell to the ground after the decision was relayed on Centre Court's giant scoreboards.
"Two years ago I lost in the final to Serena and she told me one day I was going to maybe win and hey, two years after here I am," she said courtside.
Comments

A call by acting President Moses Nagamootoo urging the Commonwealth Federation to unite through sports was made yesterday at Olympic House (Liliendaal) during his keynote address at the Commonwealth Games Federation (CGF) meeting of the Americas and the Caribbean.

By Noelle Smith If he could get one wish granted immediately it would be for the playing fields and various sporting arenas across the country to be in proper condition.

In an extraordinary display of speed, grit and stamina, Team Coco's Jamal John emerged winner of the grueling 80-mile Victor Macedo Memorial road race yesterday.

Essequibo remained at the top of the points table after completing an exciting three – wicket victory over Georgetown in fourth-round action of the Guyana Cricket Board/Jaguars three – day franchise league at the Tuschen Sports Club ground, East Bank Essequibo, yesterday.

The aspirations of the petite, 23-year-old national and regional squash champion, Mary Fung-A-Fat, was to simply live a childhood dream of 'going pro.' On September 18, Mary participated in her debut match as a full-time pro at the 2017 Nash Cup tournament in London, Ontario, Canada where she gave a solid account of herself despite dropping her match against her English counterpart.