Long jumper, Chantoba Bright finished fifth among 15 jumpers at this year's World Under-18 Champion-ships which concluded in Nairobi, Kenya yesterday.
Bright disturbed the sand with a best jump of 6.14m, way off her personal best of 6.30m which was recorded at the South American U-20 Championships last month.
The gold medalist at this year's CARIFTA Games and SA U-20 championships finished behind China's Luying Gong  (6.37m), Germany's Lea Sophie Klik (6.30m), France's Dianne Mouillac (6.28m) and Latvia's Kitija Paula Melnbarde (6.28m).
Bright would have clinched a podium spot like her countryman, Daniel Williams if she was able to replicate her personal best jump set last month at the National Track and Field Centre.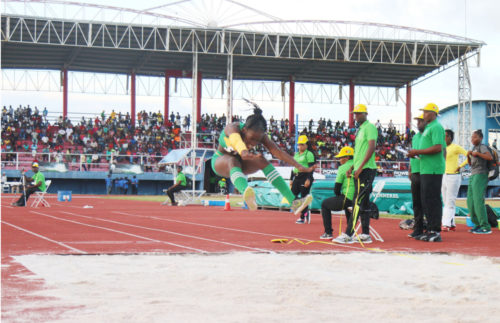 Williams, defied the odds and surprisingly snared a silver medal in the boys 400m final after being the last qualifier following the semifinal round.
It was a historic feat for the 17-year old standout from Linden who not only ran his personal best (46.72s) but became the fastest local youth quarter miler of all time.
He also became the first male World U-18 medalist from Guyana. The talented Williams joined Kadecia Baird as the only local youth athletes to earn a medal at a World meet.
Baird copped a silver in the women's 400m event half a decade ago.
Around the Web