Junior Caribbean Table Tennis U18 girls' singles bronze medalist Pricilla Greaves, who has spent the last month in Shanghai, China attending two elite table tennis training camps at the China Table Tennis College, has hailed the experience a successful one, pointing to its impact on her game.
Greaves, who is currently in the United States of America en-route to  Havana, Cuba, where she will participate in the senior Caribbean championships, in giving her account of the training experience said: "Well, it was a very intense programme. Basically, the coaches observed that my upper body work on the table was very good but advised that in order to improve, I needed to work harder on my foot movement and once I achieve that, then my tennis will definitely progress," Greaves told Stabroek Sports.
Over 100 young racket wielders from 13 countries went through the rigours of the Shanghai Elite Camps with Belarus, Egypt, Hungary, China, Fiji, South Africa and Wales fielding the majority of the representatives.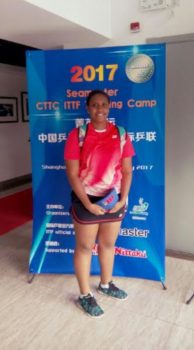 Fitness, according to the young woman, was one of the key areas that the Chinese technical team placed heavy emphasis and importance on while focusing predominantly on each individual player's oxygen level and footwork.
The 18-year-old recounted her experience by highlighting the other focus areas.
"The coaches had special drills with multi-balling where I was able to carry out that routine comfortable mainly because I had already been familiar with it," she said.
 Competition day         
Greaves, on the final day of the camp, got to execute her new found knowledge while also underscoring why she is one of Guyana's most exciting emerging talents in the sport. Competition day in that regard, saw the Guyanese defeating her counterparts from Fiji 3 – 0 and 3 – 1.
She, however, went down 0 – 3 in her match against the Chinese representative.
Greaves, in summing-up her experience said: "I really believe that it has improved my game. I got to work on my serves, control, and backhand spin a bit more so it's good preparation for my attendance at the Senior Caribbean Championships," she declared.
Greaves said she would like to thank the Government of Guyana, the National Sports Commission (NSC), Guyana Olympic Association (GOA), Digicel, St. Sidwell's Church and their Youth Group for contributing towards making her trip to China a reality.
She also expressed gratitude towards the Godfrey Munroe led Guyana Table Tennis Association (GTTA) for their contribution as well.
Greaves also acknowledged her coach Dwain Dick who has been instrumental in preparing her for the camp while also singling out national player Nigel Bryan, who assisted her in preparation for the camps.
Comments

Ladies and gentlemen it's Showtime. All of the boxers on the six-fight 'Bad Blood' (Sangre Malo) card scheduled for tonight at the Cliff Anderson Sports Hall cleared their final hurdle yesterday by making weight in their respective weight classes.

Stumps on day two of Guyana's Jaguar's final round clash against the Trinidad and Tobago Red Force ended on a bittersweet note for young sensation, Sherfane Rutherford who fell agonizingly short of his maiden first-class century at the Guyana National Stadium, Providence yesterday.

LONDON, CMC – Under-fire West Indies Under-19s and their embattled captain, Emmanuel Stewart, have found backing from the historic Marylebone Cricket Club, in the controversial 'obstructing the field' dismissal of South African opener Jiveshan Pillay, during their ICC Youth World Cup match last Wednesday.

BRIDGETOWN, Barbados, Jan 19, CMC – Barbados Pride pace quartet of Chemar Holder, Keon Harding, Justin Greaves and Dominic Drakes brought to life a pedestrian day with hostile bowling in the final hour to put Jamaica Scorpions on the back-foot in the Regional 4-Day Championship on Friday here.

BASSETERRE, St Kitts, CMC – Devon Smith's bid at history proved anticlamatic when he suffered the indiginity of a one-ball 'duck' on the opening day of Windward Islands Volcanoes' final round match against Leeward Islands Hurricanes here Thursday.