Despite the recent inclement weather, the spirit of the national rugby squad is far from dampened as the ruggers continue to prepare assiduously for the Rugby Americas North (RAN) 15s championships home game against USA South in nine days.
According to skipper, Ryan Gonsalves, Mother Nature has had her say in the team's preparations which has left the National Park rugby field in a swampy state which has somewhat negatively impacted the engine room of the 'Green Machine' however, rain or shine, his charges are putting in a 100% effort. So how is the spirit in the squad despite the recent rainy weather?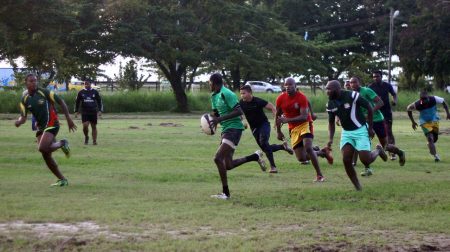 Rugby is a sport played in any kind of weather, rain or shine and we are staying positive," Gonsalves stated yesterday. "We just hope the rains don't continue to affect the rugby field that is our only concern at the moment. We would like to have brilliant sunshine from now until game day but that is out of our hands.
"The time is short and we need the team chemistry and the most preparation possible to try and get the best combination going. All of the player's spirits are high and we are competing at a very competitive level because how we practice will determine who cements a place in the team for the game against the USA guys".
Notes: The national team which defeated Barbados and Trinidad en route to clinching the Southern Zone title, finished with 10 tournament points but have a higher seeding than USA South and therefore will to host the final.
Guyana was ranked number two by RAN after losing in the final to Mexico last year. USA South was unranked last year after they did not participate in the annual tourney.
Around the Web