140 karatekas were successful at last Sunday's grading exercise conducted by the Association do Shotokan Karate-Guyana at its headquarters dojo, YMCA, Thomas Lands.
According to a media release from the Association do Shotokan-Guyana,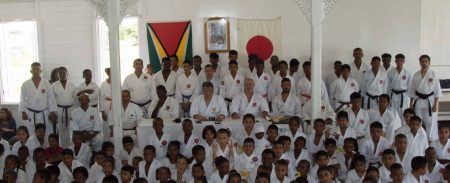 9th Dan Shuseki Shihan Frank Woon-A-Tai with assistance from Senseis Amir Khouri (6th Dan) and Roger Peroune (4th Dan) conducted the examinations and awarded the candidates the resulting grades. The karatekas were from dojos in Linden, Albion, Blairmont, Land of Canaan, Canal #1 and Georgetown.
Matthew Gurahoo attained his Second Dan belt, whilst Harikirtan Singh, Orlando Giddings, Joshua Parasram, Aarti Ramlogan, Alex Benjamin and Sean Wesley all achieved their First Dan belts. Of the other students, 24 gained their yellow belts (8kyu); 38 – orange (7kyu); 21 – green (6kyu), 12 –blue (5kyu), 10 – purple (4kyu), 18 – brown (3kyu), 4—brown (2kyu); 6 – brown (1kyu).
Toronto-based Shuseki Shihan Woon-A-Tai also conducted one week of instructors' training during his visit here.
Around the Web