Twenty-one international athletes will compete against the nation's best when the eighth edition of the Boyce/Jefford Classic is staged August 12-13 at the Mackenzie Sports Club.
Those and other details were disclosed yesterday at Chicken's Stag Bar on Republic Avenue in Linden where the formal launch of the annual fixture was held.
According to a release from the Boyce/Jefford Organization, the athletes confirmed to compete in the mining town next month are from eight territories, including the United States of America, Trinidad and Tobago, Grenada, The Bahamas, St. Lucia, Martinique, and for the first time at the meet, Uganda and Barbados.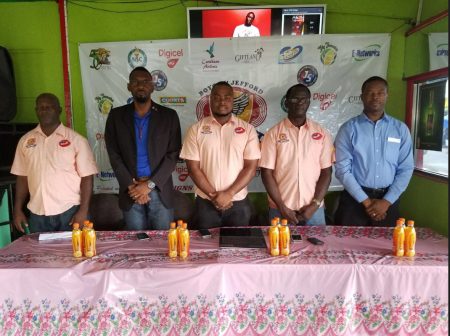 Co-founder of the championship, Colin Boyce, stated that because of the continued absence of a synthetic track in Linden, they are left with no other choice than to invite 'B' standard athletes to participate. Boyce said however, that the meet is headed for the next level when a synthetic track is constructed in Linden.
The clubs will compete for $2M in cash with $1M allotted to the winner; $500,000 to second place; $300,000 to third place and $200,000 fourth place. In addition, the competition has six international events, including the male and female 200m, male 800m, female 1500m and the male and female Long Jump.
Each of the international events carries at US$500 purse with US$250 for the winner; US$150 to second and US$100 for third. The male and female champion athletes will also cash in, running away with $50,000 each.
Eight gate prizes will also be given away to lucky ticket holders. Children tickets are available at ZSK Beverage Depot for $500 while all other tickets will be $1000 at the venue on the day. Movements Sound, DJ Winston, Father Moey and Determine Immortal Sound will be providing the Entertainment throughout the event.
Mayor of Linden, Carwyn Holland stated that he is happy to see the Classic in Linden for yet another year.
"Speaking on behalf of the Linden community, we are heartened to have this event here again," Holland said.
The Linden Mayor said that he believes that the continued effort of the organizers to remain steadfast with a "signature event" in Linden shows enormous commitment to the community.
Around the Web