Cycling action returns to the Ancient County tomorrow with the fourth staging of the Grenville Felix Memorial road race.
Following the P and P Insurance Brokers Criterium program in the National Park two weeks ago, wheelsmen from all across Guyana will now turn the open roads of Berbice into their battleground as they compete for the top honors in the 60-mile memorial fixture.
The event rolls off at 10:00hrs in front of the late Felix's home at Canefield, East Canje, proceed to the NO. 51 Village and return to the point of origin for the finish.
The day's event which is organized by the Flying Ace Cycle Club, will see the first six finishers receiving prizes. Prizes will also be awarded to the first three juniors, first three females and the first three veterans. A total of 10 sprint point prizes will also be awarded.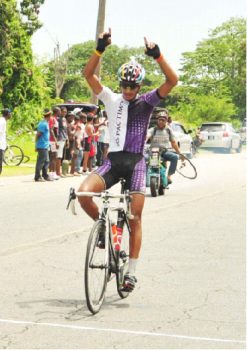 Paul DeNobrega of Team Evolution was the winner of last year's event.
However, with the likes of Hamza Eastman, Alonzo Ambrose, Romello Crawford, Raul Leal and Akeem Wilkinson, DeNobrega will be hard pressed to repeat.
Other riders from Team Coco's, Team Alanis and Team Evolution will also be aiming for the top podium spots.
Notes: Felix who passed away four years ago at the age of 96, was one of Guyana's first engineers who worked with Bookers and the Guyana Sugar Corporation and in other parts of the world.
Around the Web