Alex Arjoon retained his senior squash crown while world-rated player Nicolette Fernandes dethroned defending champion Ashley Khalil at the conclusion of the 2017 Digicel Senior National Squash Championships at the Georgetown Club Squash Courts Saturday evening.
Arjoon and Richard Chin provided a men's final of the highest calibre with both players pushing themselves to the limit before the 2017 champion prevailed with a 3-1 win in the title decider.
Arjoon won the first two sets 12 – 10 before Chin, who has years of experience under his belt, battled back to win the third game 11 – 6.

Arjoon, however, jumped out to an early 4-0 lead and at 8 – 4 it seemed as if he would easily take the set. Chin, though, had other ideas and staged a remarkable comeback to knot the game at 10. Arjoon, however, was not to be denied and closed out the match by winning the next two points and the game 12 – 10.
Fernandes, who had not played in the last two national Open championships, defeated defending champion Ashley Khalil 3 – 0 to reclaim the crown. Fernandes took the first set which was closely fought, 11 – 9. The second set was also close but Fernandes always seemed in control and won it 11 – 8 before claiming the third and final set in commanding fashion 11 – 1.
Meanwhile, Nyron Joseph defeated Kristian Jeffrey in a hard-fought men's third place play off which went to five sets. Joseph took first set 13 – 11 but Jeffrey bounced back to take the second 11 – 5 and third set 12 – 10. Joseph, however, took the final two sets 11-0 and 11-4.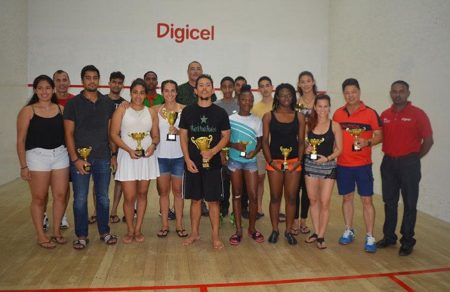 Former national champion Mary Fung-A-Fat secured the female third place playoff when she defeated the 2017 Caribbean girl's under-19 champion, Taylor Fernandes. Fernandes won the first game 11 – 8 and then had the game ball 11 – 10 to go two sets up. Fung-A-Fat, however, used all of her experience to claim the second 14 – 12. The loss of this second set seemed to take the fight out of Fernandes as Fung-A-Fat won the third and fourth sets 11 – 4 and 11 – 5 respectively.
The classic plate playoff match between Jason Ray Khali and Fernandes saw the former winning 3-1 while Caribbean under-15 champion Shomari Wiltshire defeated Jean-Claude Jeffrey three sets to two in the other encounter.
In the men's Plate final Ben Mekdeci had a straight set win against Nicholas Narain; 11 – 4, 11 – 2, 11 – 2 while Steven Xavier defeated Javed Rahaman 11 – 9, 11 – 7, 11 – 4 in the third place playoff.
In the Veterans 35 – 49 years category, Joe Mekdeci beat Allan Downes in straight games 11 – 4, 11 – 8, 11 – 8.
Around the Web