Guyana's national table tennis players are holding their own at the ongoing senior Caribbean Table Tennis Championships currently being played in Havana, Cuba after turning in several impressive performances.
So far Guyana has won a silver medal through Diane Chance in the veterans' over 45 category and a number of bronze medals.
The Guyana women's team outdid itself by reaching the semi-finals earning a bronze medal in the process before being eliminated by hosts Cuba.
They had earlier defied the odds and the seeding by toppling Puerto Rico, the number two seed in their group and earning a semi-final spot.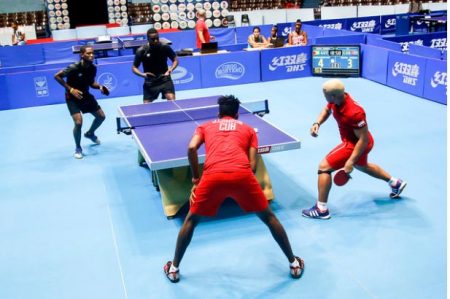 Cuba eventually lost to the Dominica Republic 1-3 in the final with Dominican Republic's Eva Brito winning two matches and Cinthya Sanchez one.
Lisi Castillo was the lone winner for the Cubans beating  Esmerlyn Castro.
Cuba, however, exacted revenge when their men's team defeated the Dominica Republic also by a 3-1 margin in the final of the men's team event.
Livan Martinez (Cub) lost the first match to Emil Santos (Dom) 1-3 but thereafter it was all Cuba as Jorge Campos and an injured Andy Pereira of Cuba defeated Samuel Galves and Isaac Villa respectively.
Santos, needing to win the first of the reverse singles match to give the Dominican Republic a chance fell  0-3 to Campos.
The Guyana men's team ended in seventh place after whipping St. Kitts/Nevis 3 – 0.
Shemar Britton, Nigel Bryan, and Joel Alleyne defeated Calvin Lake, Trehdel Lake, and Baggio Grant all by 3 – 0  margins.
The locals, who received a walkover from Dominica, had lost to Puerto Rico 1-3 and the Dominican Republic 0-3, failing to advance to the semi-finals.
Doubles
In individual play, Guyana's Shemar Britton and Christopher Franklin won a bronze medal in the men's doubles from a tough field.
Britton and Franklin, gained a bye in the first round before defeating
Jean Claude Hoek and Jean Pierre Helmeyer of Aruba 11-7, 11-5, 11-2.
They then took out Cuba's Espinosa Sanchez and Leudes Serrano 11-7, 11-8 and 11-9 in the quarterfinals.
However they were beaten 11-7, 11-7, 11-6 by Cuba's Campos and Pereira in their semifinal.
In mixed doubles  action the pair of Joel Alleyne of Trenace Lowe was knocked out in the second round after defeating Baggio Grant and Angelica Freeman of St. Kitts and Nevis. They lost to Cubans Carlos Hernandez and Karli Perez.
The pairs of Franklyn/Natalie Cummings and Britton and Chelsea Edghill also recorded wins against St. Kitts and Nevis before surrendering in the second round to teams from Cuba.
In women's doubles play, Cummings and Pricilla Greaves downed Shaniqua Esdaile and Freeman of St. Kitts and Nevis 3-0 before going down to Fernande Machado and Kari Perez Gonzalez of Cuba 1-3 in the quarterfinals.
Lowe and Edghill were also knocked out in the quarterfinals by Thalia Perez De Armas and Lizdainet Rodriguez 3-0.
In men's doubles action, Alleyne and Nigel Bryan suffered first round exits at the hand of the Trinidad and Tobago pair of David Mahabir and Arun Roopnarine.
Meanwhile, Guyana most impressive showings came in the singles category where Edghill, Lowe, and Cummings all topped their groups  in the women's singles while Greaves also qualified for the next round after placing second.
The men's singles action saw Franklin topping his group while Bryan, Alleyne and Britton advanced as the second places finishers in their respective groups.
Around the Web