Four-time national champions Christianburg/Wismar Secondary crushed Region Eight's Mahdia Secondary 5-0 when the Digicel Schools Football Championships National Playoffs commenced yesterday at the Mackenzie Sports Club (MSC) ground, Linden.
Although the score line suggested a clinical display from the seven-time Region 10 champs, the home side was guilty of spurning several scoring opportunities, especially in the first period.
For the visitors, the contest was a forgettable experience as they failed to register an attempt on goal during the entirety of the contest.
Jehu Regis bagged a second half brace in the 58th and 64th minute while Randy Pickering, Jernel Williams and Kevin Dare scored in the second, 73rd and 85th minute respectively.
With the win, Christianburg/Wismar will now oppose Region Four champs Buxton Youth Developers in the quarterfinal round tomorrow.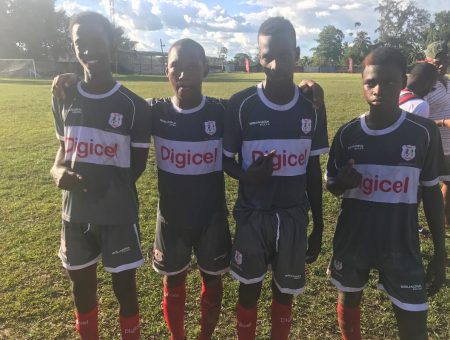 The contest started brightly for the hosts when Pickering finished under the advancing goalkeeper from the right side of the penalty area, after racing onto a through pass.
Despite the early conversion, the Lindeners struggled to find the back of the net again in the half, with poor finishing the main reason for their failures.
Ezekiel Clarke came the closest to doubling their lead in the 32nd minute, blasting his effort straight at the advancing goalkeeper from inside the centre of the box, during a one-on-one situation.
The second period saw an improvement from the home side who scored four goals. Regis started the second rout, slotting home from the left side of the box, into the lower right corner, after collecting a pass from the centre.
Regis made his presence felt once more, racing onto the ball after the defender missed an attempted clearance, before tucking his effort past the onrushing goalkeeper into the lower left corner. Williams then got into the scoring act, sprinting into the left of the box, before slotting his right foot effort into the lower right side.
The score was sealed five minutes before the end of the match as Dare unleashed a right foot attempt from outside the centre of the box, which rolled under the body of the goalkeeper.
Over at the Ministry of Education ground, two time Region #9 champion Annai Secondary downed three time Region #5 winner Bush Lot 5-2. At the Anna Regina ground, Region #1 titlist Hosororo blanked Region #2 winners Charity Secondary 2-0.
The championship is scheduled to conclude on July 31st. Chase Academy is the defending champion, with Christian-burg/Wismar the most successful school with four consecutive titles (2012, 2013, 2014, and 2015) in six successive final appearances.
The other winner of the tourney was GTI in the inaugural edition (2011). Victor of the event will receive $1,000,000 towards a school project and a trophy.
The second, third and fourth place finishers will collect $700,000, $400,000 and $350,000 towards a school initiative and the respective accolade.
Around the Web