The Guyana Girls Academy (GGA) in collaboration with the Guyana Football Federation (GFF) officially launched their inaugural Summer Girls Academy yesterday at the GFF Boardroom, Section-K Campbellville.
The programme, which will commence today at the Transport Sports Club ground, Thomas Lands, will last for four days and caters for girls ages 7-11.
GGA President Colin Wilson said: "The idea was to create a girls academy that would develop, train and educate girls to compete at a collegiate, professional and international level as well as to help ignite a strong women's football culture here in Guyana that would continuously fuel the women's national team programme."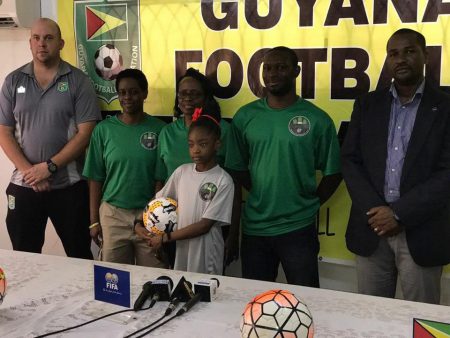 He added, "With this camp we are starting off with the younger girls and we are hoping to build from there so we can get as many girls as possible to create a bigger player pool for Guyana so they can compete at the highest level in the future."
Wilson revealed, "The reason I choose now is on the one hand back in the [United] States, I am a women's coach and I have multiple teams so June through July is when we have our summer break and July through August is when you have yours. So July is the only time for me when I am available to come down and do this camp so it's a bit of a juggling act that fitted into my schedule as well as people down here." Asked about the selection criteria that was utilized, Wilson affirmed, "The idea is to get as many girls as possible. Obviously with me being up in the [United] States, I only have so many resources down here in Guyana. So with a few of the connections I made down here with the GFF and a few friends from ABSAA, I was able to get them to reach out to a few girls in Georgetown and also surrounding areas and they were able to pool a number of girls".
"I was able to do some crowd funding back in the States and to get the equipment for those girls so with the pool, we can start with that and for the next one hopefully it can grow and then we can branch out to all the other areas of Guyana. In about five to 10 years I am hoping we can get our own facility or be able to share a facility with one of the other organizations so we can have a year round girl's academy" he said.   Meanwhile, GFF President Wayne Forde said, "The most important point to emphasize here is the continued effort of the GFF to reach out to fellow Guyanese and those with Guyanese roots, Mr. Wilson represents that, in building a strong coalition that will support the development of football at every level of the game and every category of the sport."
According to Forde, "The Guyana Football Fraternity and the general public would have seen over the past couple of months, the efforts being made by the executive committee through our ever hardworking Technical Director to bring some focus and structure to women's football. We are nowhere close to where we have to be in a couple of years but the partnerships being built right now will certainly add impetus to the direction we want to take female football."
"Thank you for the interest and clearly the commitment, the resources, knowledge and experience you will bring to the work we are already doing here. We are here to support and give any assistance needed, the TD and his staff will be involved as much as possible to ensure the work that you will be doing align with some of the technical programs that we ourselves are trying to runoff. Good luck and be assured of our support over the next couple of days" he added.
Also, Ian Greenwood, Technical Director of the GFF said, "As we know at the moment, women's football locally is 20 years behind where it should be. At the GFF we are re-launching women's football in the country and that process started with the appointment of our very first Women's Development Officer Tricia Munroe. We have a lot of activities now at the grassroots levels for female players. We currently have our u17 national women's team in training camp preparing for our tournament [CONCACAF U17 Championship] which Guyana will be hosting."
According to Greenwood, "This initiative by Coach Wilson is a great one for the younger players that we have. We know that we need to get a lot more local girls into our national teams for the next few years. Predominantly, we know it has been mainly overseas based due to the quality we have been getting from overseas. We need to develop local players ourselves and that has to start at the ages of five, six, seven. This initiative will be falling under the GFF Technical Development Plan and will help to develop young girls into footballers down the years and the collaboration between the two entities will be positive".
Around the Web