Despite returning with just a single medal, there were some positives to be taken following the Commonwealth Youth Games which concluded in the Bahamas last Sunday.
Chief among them was the offer of scholarships and personal best performances recorded by some of the athletes.
During a press briefing yesterday at the Olympic House, it was disclosed that track and field athlete, Onasha Rogers and judoka, Joshua Buchanan were offered scholarships at the event which saw local boxer, Keevin Allicock snaring a silver medal in the 52kg division.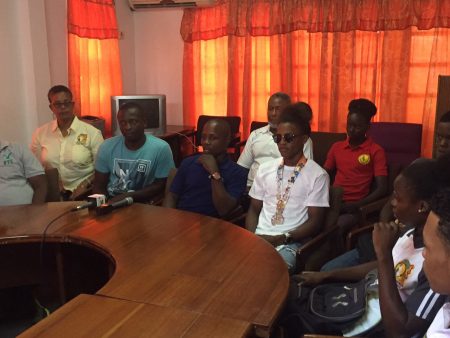 Coach of the track and field, Julian Edmonds pointed out that Rogers achieved a new personal best in the girls' 200m, with a time of 24.33s.
Rogers was also placed fourth in the 100m final where herself and Kenisha Phillips made it into the finals.
"This is the first time in the history of athletics in Guyana that at a major event, we had two females in the 100m finals, which is great," said Edmonds. "Canada would have been the only other country that had two finalist in the event. It means good for Guyana, it shows that sprinting in Guyana is definitely on the rise. All in all I think the athletic team did their best," Edmonds added.
The former national 100m U-20 record holder disclosed that Rogers' performance saw her being approached by a number of scouts, offering scholarships. However, Rogers is already in the process of taking up a scholarship at Monroe College in the USA.
Said Buchanan's coach, Raoul Archer: "At the present moment in The Bahamas they're offering judo scholarships, and because of our performance they offered us four scholarships. So judo is going somewhere in Guyana."
In swimming, each of the swimmers were able to achieve at least one new personal best in their events. Daniel Scott achieved a new PB in the boys' 200m freestyle where he clocked 2:09.90s, while Kenita Mahaica had a new PB in the 50m backstroke, where she clocked 34.23 seconds.
Allicock was going for gold in the 52kg division but dropped a 5-nil decision to Englishman, James David.
En route to the gold medal bout, Allicock recorded wins against Kian Bittles of Northern Ireland and Jordan Mathieu of Canada.
Allicock's heroics was the only podium worthy performance for Guyana's 10 representatives that competed in four disciplines: boxing, judo, swimming and track and field.
His coach, Sebert Blake used the opportunity to reiterate that more support is needed for young sportsmen and women if they are to excel on the world scene. (Emmerson Campbell)
Around the Web