Playing on a sand court, Young Achievers Volleyball Club, smashed their way to another volleyball title capturing the inaugural Demerara Volleyball Association (DVA) senior A – Division volleyball league at the Bartica Community Centre Ground, yesterday.
Achievers, who boasting the services of four national players on their team, lost the first set, 20-25 against a pumped up home side, Bartica Warriors who led 5-0 and 20-13 during the first set.
Achievers, however, who are known for their efficiency, stormed their way back into the exciting contest by taking the second set in commanding fashion, 25-14.
Warriors came out strongly in the third set  for a 6-1 lead much to the delight of their home supporters.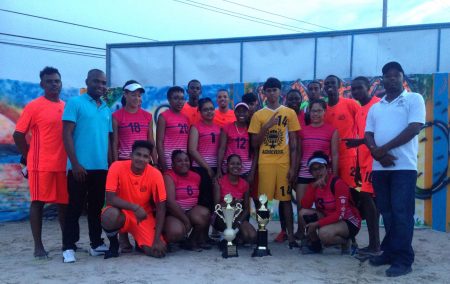 Achievers, however, clawed their way back with the score on 9-8, on their way to winning the third, 25- 18.
National player, Creston Rodney was most brutal during that set, smacking Warriors' defence to pieces  as his team took  a 2-1 lead.  The finals took another turn after Warriors rebounded to win the fourth set, 25- 19 to set up an intense fifth and final set.
The hosts, however, were left wondering 'what if' after they dropped the final set, 15 – 11. The game was tied at 10  but Achievers pulled away to capture the trophy  and the $150,000 first prize earnings.
Meanwhile, Vanguard Volleyball Club defeated Pakuri Warriors three sets to one to take the female title.
Vanguard took the first set, 25-19, benefiting from Pakuri's inability to handle a number of well-executed serves, especially from junior national player Cherry-Ann Fraser who dished out several heavy serves.
Pakuri, however, played much better in the second set to lead 9-7 and 15-11 as if to show why they made it to the final. They duly won the second set, 25 -19 to leave the final at one set apiece.
Vanguard, though, took the third set, 25 – 16 after trailing 3-8 after which they went on to take the fourth and final set, 25- 20 to complete their 3-1 triumph and $125,000 first prize.
Eight teams in total participated in league which lasted for nearly two months.
Around the Web