Settling Star earned its handlers the top honors in the feature D3 and Lower one mile event of the Pre Emancipation Meet which was staged yesterday at the Kennard Memorial Turf Club.
The steed from the Shariff Racing Stables raced ahead of pre-race favorite, Golden Blue Echo, Brave Sky and Lady Budapest to claim the $1M bounty.
Settling Star's trainer will be hoping the champion race horse's winning ways continue in the two other horse race fixtures in the coming weeks.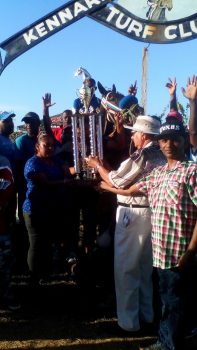 Before the feature event, there were six other races. Here is a summary of them:
Race 1 (L non-winner)
Lucky Lucky
Party Done
Sweet Silence
Angel Eyes
Race 2 (E2 and Lower)
Honey Flow
Golden Blue Echo
Storm Bird
Race 3 (I3 n lower with 3 Year-Old Guyana Bred Open)
Party Time
Miss Olympic
Mary Ann
Red Jet
Race 4 (H2 and Lower)
TNT a
Midnight
Race 5 (J and Lower)
Liquid Lion
King Stanley
Miss Olympic
Irish Baby
Race 6 (K Non Winners)
Irish Baby
Royal Son
Mystery Man
De Rock
The 'Sport of Kings' continues on tomorrow with the staging of the Four Horsemen Emancipation Meet at the Port Mourant Turf Club.
Around the Web