The national U15 boys and U17 girls' teams commenced their respective final encampment process Tuesday ahead of their upcoming CONCACAF U15 and U17 qualifying tournaments.
The boys teams is scheduled to compete at the CONCACAF U15 championships from August 13th-19th in Florida, United States of America while the girls team is scheduled to participate in the CONACACF U17 tournament from August 9th-13th at the National Track and Field Facility, Leonora.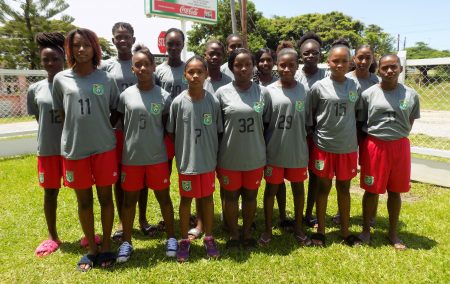 The 18-member boys roster, under coach Bryan Joseph reads:- Goalkeepers Oswin Frederick (Buxton United) and Shawn Adonis (Golden Grove) Defenders Jermaine Padmore (GFC), Joshua Braithwaite (Fruta Conquerors), Kevin Reddy (Potaro Strikers), Marcus Wilson (Eastveldt), Okifi Patoir (Rosignol United) and Wayne DaSilva (Saints Sports Club), Midfielders Isiah James (Rosignol United), Shannon Samnauth (Soesdyke Falcons), Jermaine Garrett (Fruta Conquerors), Omari Glasgow (BV United) and Tyrel Khan (Soesdyke Falcons), Forwards Ken Salvador (Saints Sports Club), Orville Daniels (Paiwomak Warriors), Ravon Bayley (Ordis FC), Ronaldo Rodrigues (Atkinson Brothers FC) and Troni Semple (Buxton United).
The encampment period for the males ends Saturday.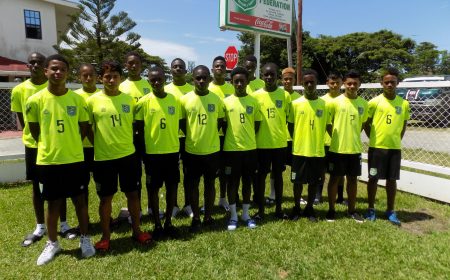 The female team which features Canada-based forward Nailah Rowe (FC Durham) consists of, Goalkeepers Indera Amardeo (Kuru-Kuru), Vicky Jonannis (Orealla FC) and Ludesha Reynolds (GFC), Defenders Odessa Smith (Kwakwani Strikers), Lendey Adolph (Kwakwani Strikers), Noami Aaron (Orealla FC), Veyansa Hope (Kuru-Kuru), Tameka Atkinson (Tabatinga FC) and Althea Austin (Fruta Conquerors), Midfielders Alisha Adams (Fruta Conquerors), Ashana Williams (Kwakwani Strikers), Latesha Sutherland (Fruta Conquerors), Tiandi Smith (Foxy Ladies), Siacy Adams (Foxy Ladies), Shontel Greene (Foxy Ladies) and Amanda McKenzie (Fruta Conquerors), Forwards Jalade Trim (Kwakwani Strikers), Sasha Rodrigues (Gladiators FC) and Shirin James (Tabatinga FC).
The team will be coached by Akilah Castello, while his assistant will be Tricia Munroe. The Goal-keeping coach is overseas based Hope Clarke. Their encampment period ends Tuesday.
According to an official release from the Guyana Football Federation (GFF), Technical Director Ian Greenwood said, "The Women U17s will be focusing on defensive shape, composure in possession, regains of possession and set pieces in the upcoming camp.
We know we still have a long way to go with our Women's programme as we are currently a long way behind in terms of technical skills and tactical understanding at this level. However, the tournament will give us much needed exposure as we will build this newly established squad over the next few years."
He added:"We are excited to see Nalaih Rowe in a Guyana shirt who recently excelled in our GFF Talent ID Camp conducted in Toronto. We are calling on Guyana to come out and support the girls on their tentative early steps into international football."
Guyana will begin their campaign in the CONCACAF Caribbean Women's U17 Qualifiers on  August 9th against the Barbados. This will be followed with a clash between Barbados and Cuba on August 11th.
The local ladies will then conclude their group campaign two days later against Cuba. The top three teams from the Caribbean zone will progress to the CONCACAF U17 Championship.
Around the Web