LONDON, CMC – The track and field world is set to bid farewell to the greatest sprinter of all time in Usain Bolt when the IAAF World Championships gets going here this weekend.
Jamaican Bolt, a legend of the sport, will race for the final time at the August 4-13 showpiece before calling time on a decorated career that has brought him multiple World and Olympic titles over the last decade.
An 11-time World champion, Bolt, despite winning the men's 200m at the last four World Championships, will only settle for the 100m this time around. And despite having only three 100m races this season and a season-best of 9.95 seconds, the irrepressible athlete told journalists he was ready and that the headline after Saturday's 100m final would read "unbeatable, unstoppable Bolt."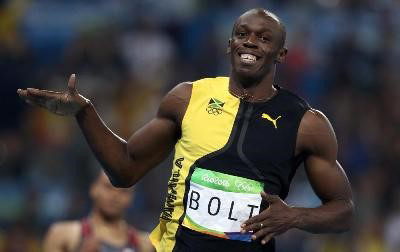 "I am not worried. It's a championships, it's a final, so its all about who can keep their nerves," said the three-time Olympic sprint double champion.
"If I show up for a championships, if I am here, you know I am fully confident and ready to go.
"The last race I ran 9.95 and it showed I am going in the right direction, so after these two rounds leading up to the final, which always help me, then for me I am going forward."
Jamaican Elaine Thompson and Bahamian Shaunae Miller-Uibo are two other Caribbean headliners for the meet.
The 24-year-old Thompson, the reigning Olympic sprint double champion, will also run only the women's 100m, which gets going on Saturday. Miller-Uibo, the Olympic Games 400m champion, takes on the 200/400m double but according to her, special focus will be on the one lap event.
"I think I am pretty ready. Everything is going well," Miller-Uibo said on Thursday.
"The main thing is the 400m so once I get done with the 400m, the 200m is just there for play. I just want to go out there and have fun with it."
Meanwhile, seven other Caribbean athletes will be in action in today's opening. Antigua and Barbuda's Chavaughn Walsh will be in the preliminaries of the men's 100m, along with Barbadians Mario Burke and Ramon Gittens, and Bahamian Warren Fraser.
They are challenging for a place in the heats, the stage at which Bolt enters later in the evening.
In the men's discus, Jamaicans Fedrick Dacres and Traves Smikle are down to contest the men's opening round. The 23-year-old is the world number two with a throw of 68.88 metres.
Damar Forbes and Ramone Bailey, both Jamaicans, will be the English-speaking Caribbean's representatives in the men's long jump.
The opening day's activities will end with the men's 10 000m final.
Around the Web