The Guyana Hockey Board (GHB) received a timely boost in their preparation for the Pan America Indoor Championship, inking a six month deal with Buddy's Gym for the strength training of the men and women teams.
Speaking at the entity's Sheriff Street location, GHB President Phillip Fernandes said: "This is a very important occurrence for the Guyana National Hockey team, in the past we have tried our best to prepare teams with limited resources we had. We had our challenges, preparing a top hockey team requires a lot of different aspects including not just technical and tactical training but also psychological competence, also, speed and endurance training, physical strength, all these different things and therefore what we are trying to do this time around. We have an opportunity here to develop the strength and endurance of the athletes to a greater level than has happened in the past."
According to Fernandes:"Our coaches have been working very hard with them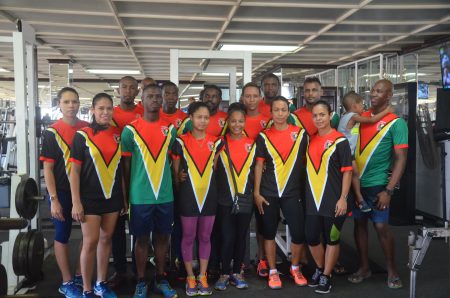 technically, tactically in the game and we see these other components as adding to our ability to really perform on the international stage. The teams that we are going to be playing against are first world teams, they are teams that have solid programs throughout, and they cover these aspects of the game. Therefore it's a big disadvantage if we don't make an attempt to do so."
He added, "It's expensive to utilize a quality gym for a team of athletes to prepare and therefore we are very happy to have this opportunity provided by Buddy's Gym where we can have both the women's and men's team train here with free membership for six months leading up to the championship. We are very happy to have this partnership with Buddy's Gym, the sponsorship is of significant value to us and we are going to have our teams make the best use of it and hopefully add to our chances of success."
Dwayne Scott, Coach of the national team said: "We are very appreciative of the Buddy's Gym for their contribution, there is a lot that goes into this. The contribution itself we cannot be anymore grateful for it, it is definitely helping us to prepare mentally, physically for this tournament."
Scott revealed, "The process as it is right now we are working towards being competitive and to some extent winning a medal in the tournament both in the Men's and Women's category. We have had just about seven months to prepare and so far we are going okay. This contribution will definitely help us in the process."
The Pan American Indoor Championship, scheduled for October 14th-23rd, will feature several world class teams. On the men's side, the other competing teams are Argentina, Canada, Barbados, Mexico, Trinidad & Tobago and the United States of America (USA).
In the women's division, Argentina, Canada, Barbados, Mexico, Trinidad & Tobago, Uruguay and the USA are the other participating nations.
Guyana has participated on three occasions in this competition, resulting in a fourth place finish in 2005, fifth place in 2010 and their best showing, third place in the last competition held in 2014 in Montevideo, Uruguay.
Around the Web